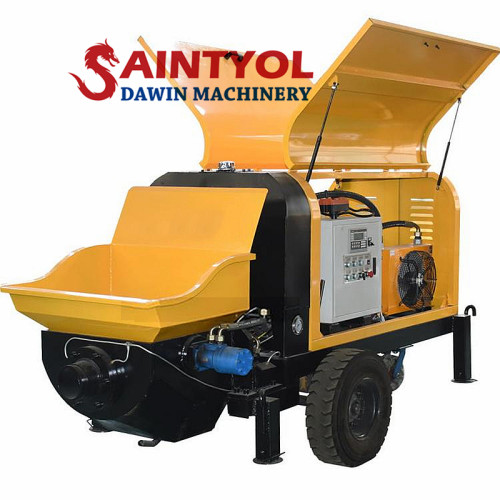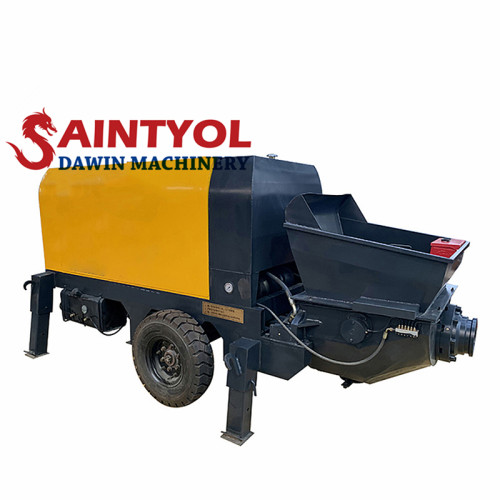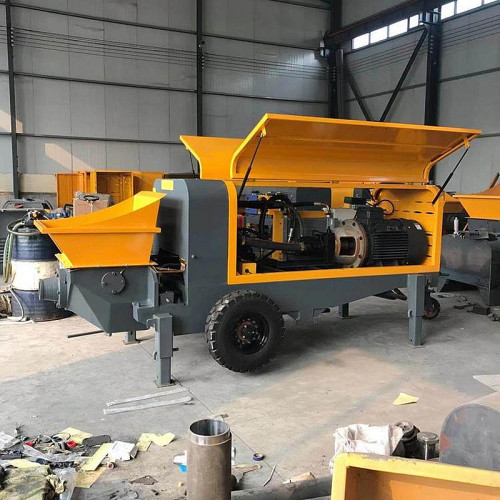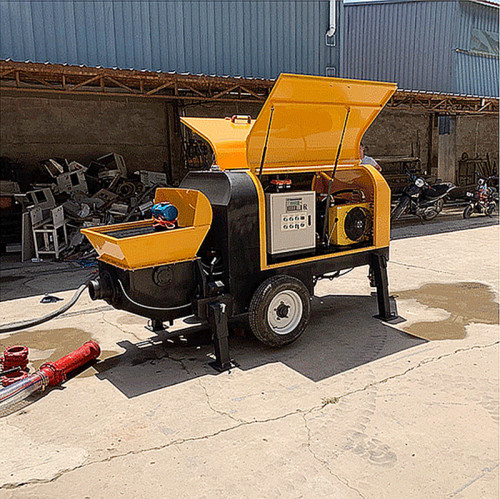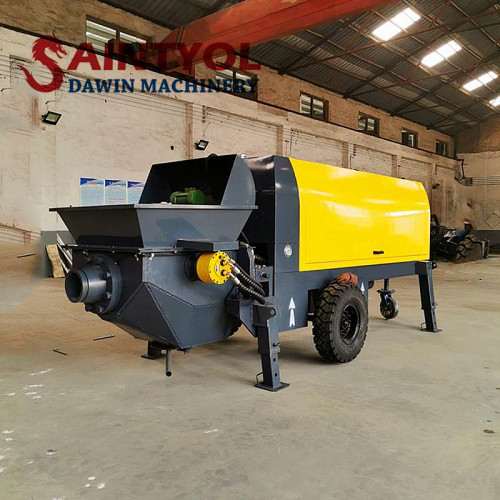 20m3/hr Trailer Concrete Pump With Diesel or Electric Power
Item specifics
Pumping Capability

20 cubic meter per hour
Valve

S shape
Loading Hopper

350L
Engine

39KW Yuchai Or 30KW Electric Model
Pumping Horizontal Distance

400m
Pumping Vertical

130m
Delivery Pressure

80 Bar
Description
Instruction:
Concrete Pump was a kind of useful and efficient concrete high pressure transport pump, widely used in highway, railway, bridge, building, tunnels, ports, water conservancy and other projects of grouting pressure, grouting mortar, concrete, large particle slurry grouting, spraying work, has the working pressure, pumping ability strong, grouting with high efficiency, smooth coating, using solid, etc.

Saintyol DAWIN Machinery Concrete pump design is light, easy to move, suitable for small and middle construction projects.
The S-valve series concrete pump is a new generation product developed by combining latest technologies both at home and abroad.
The products have passed ISO9001-2008 quality management system certification and CE certification.
Our workers strictly control all the machining processes and assembly quality, give final test to every pump by simulation working conditions and overload experiments to ensure customers zero fault as first operation.
1.The special pouring pump for secondary structure fine stone mortar can realize the transportation of fine stone concrete and mortar for long-distance high-rise buildings.

2.The distribution valve adopts advanced S-tube valve, which has good sealing performance and simple and reliable structure.

3.The eye plate (commonly known as wear plate) and floating cutting ring are made of hard alloy, which has good wear resistance, long service life and convenient replacement. The cutting ring can automatically compensate the gap structure.

4.The machine adopts electric-liquid control mode, with perfect electro-hydraulic overload protection and instrument display system. It has anti-pump operation function, easy to eliminate blockage fault. The pumping speed can be adjusted to meet various working conditions.

5.The centralized lubrication system automatically controls the start and stop and running time by the program, effectively extending the service life of the rotating parts.

6.The electrical components such as the contactor and the push button switch are reliable in operation, the control circuit is simple, and the electrical box is equipped with a switch for easy operation.

7.The main seals are made of high quality seals to prevent internal and external leakage of the hydraulic system.

Diesel HBTS20-8-39R Specifications:
Item

Unit

Diesel Concrete pump
HBTS20-8-39R

Max. Theoretical Concrete Output

m³/h

20

Max. Concrete Pumping Pressure

Mpa

8

Distribution valve

S Valve

Conveying tube inner Dim

mm

100A*70A

Rated speed

r/min

2300

Max. Teoretical Conveying Distance
(Horizontal /Vertical)

m

400/130

Concrete Cylinder Diameter

mm

140*750

Hopper Capacity/ Filling Height

m³/mm

0.3/1100

Maximum aggregate size

mm

≦30

Concrete slump range

mm

120-230

power

kw

39

Oil tank capacity

L

250

Cleaning mode

High pressure washing

Dimension

mm

4100*1400*1450

Total Weight (including oil)

kg

2500
Electric HBTS20-8-30 Specifications:
Item (HBTS20-8-30)

Unit

Eelctric Concrete pump

Max. Theoretical Concrete Output

m³/h

20

Max. Concrete Pumping Pressure

Mpa

8

Distribution valve

S Valve

PLC

Yes

Mitsubishi

Conveying tube inner ID

mm

Φ100A/70A

Rated speed

r/min

1480

Max. Teoretical Conveying Distance
(Horizontal /Vertical)

m

400/120

Concrete Cylinder Diameter

mm

Φ140×750

Hopper Capacity/ Filling Height

m³/mm

0.3/1100

Maximum aggregate size

mm

≦30

Concrete slump range

mm

120-230

Motor power

kw

30

Voltage

V/Hz

380/50

Hydraulic fuel tank capacity

L

100

Cleaning mode

High pressure washing

Dimension

mm

4100*1500*1600

Total Weight (including oil)

kg

2200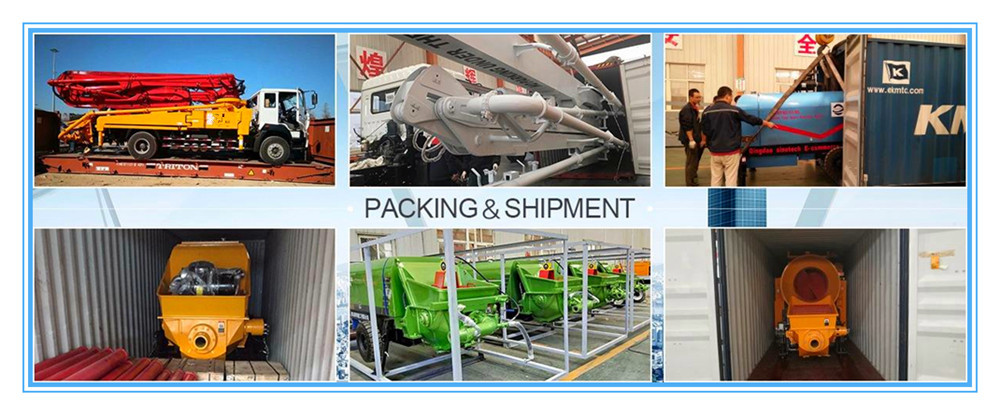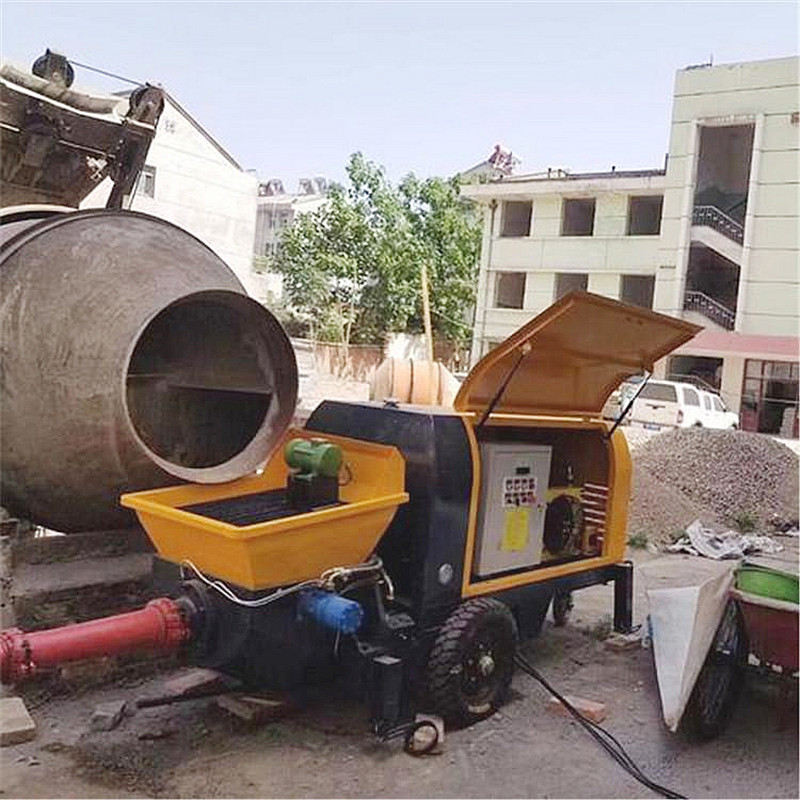 Concrete Pump E-Brochure Download