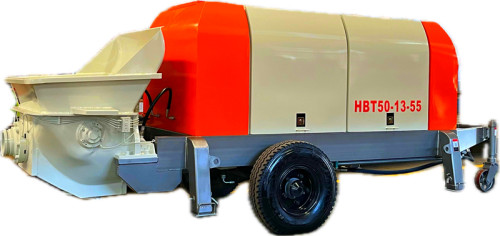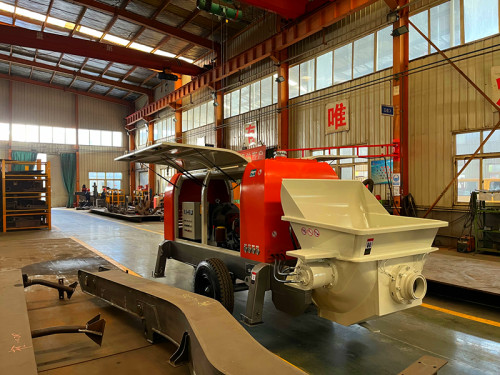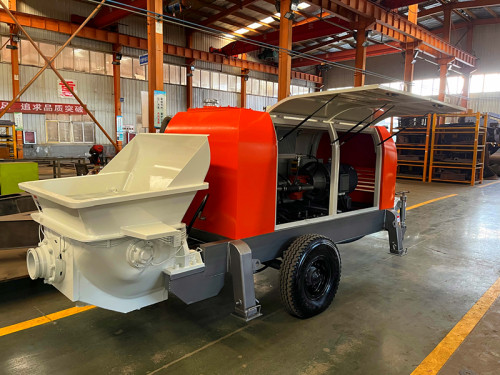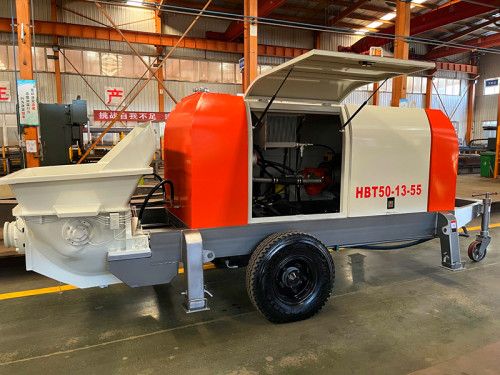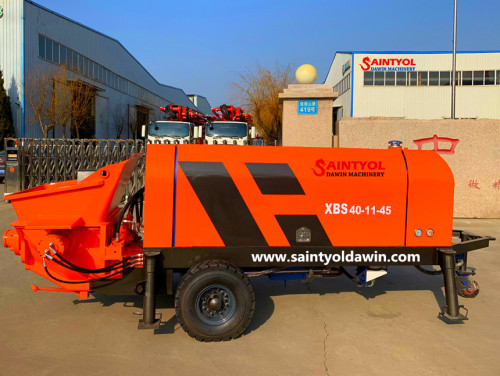 60m3/hr Trailer Concrete Pump With Diesel or Electric Power
Item specifics
Pumping Capability

60 cubic meter per hour
Valve

S shape
Loading Hopper

600L
Engine

129KW Deutz or 90KW Motor
Pumping Horizontal Distance

700m
Pumping Vertical

180m
Delivery Pressure

125 Bar
Description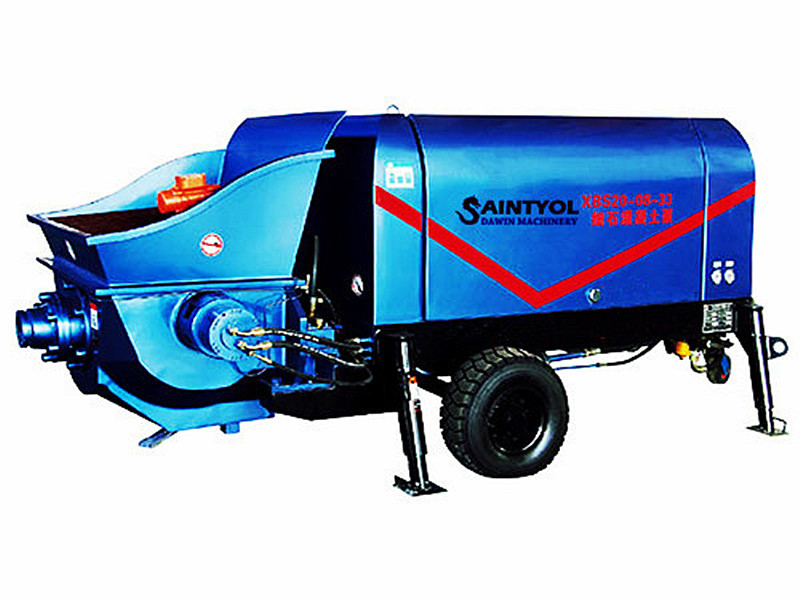 Instruction:
Concrete Pump was a kind of useful and efficient concrete high pressure transport pump, widely used in highway, railway, bridge, building, tunnels, ports, water conservancy and other projects of grouting pressure, grouting mortar, concrete, large particle slurry grouting, spraying work, has the working pressure, pumping ability strong, grouting with high efficiency, smooth coating, using solid, etc.

Saintyol DAWIN Machinery Concrete pump design is light, easy to move, suitable for small and middle construction projects.
The S-valve series concrete pump is a new generation product developed by combining latest technologies both at home and abroad.
The products have passed ISO9001-2008 quality management system certification and CE certification.
Our workers strictly control all the machining processes and assembly quality, give final test to every pump by simulation working conditions and overload experiments to ensure customers zero fault as first operation.
1. Intelligent power control system to regulate the engine speed automatically, for smooth and efficient operation
2. Plunger pump with constant power, to ensure the efficiency of main engine
4. High-quality wear resistant alloy components for long service-life
5. High delivery pressure for demand of high-rise and long distance projects
6.Air cooling system, without dependence of external water
7. PLC system to ensure best control performance
8. With re-pumping function to smooth construction of better accessibility
9. Equipped with wired remote controller, easy to operate
Diesel DHBT60S-13-129 Specifications:
DHBT60S-13-129

Item

Units

technical data

Whole Machine Performance

theoretical delivery volume

m³/h

60

theoretical delivery pressure

M

12.5

Max. delivery frequency

Times/min

22

theoretical delivery height

m

180

theoretical delivery distance

m

500

Type of distribution valve

S tube Valve

Specification of delivery cylinder

mm

Φ200×1650

Specification of main oil cylinder

mm

Φ125/Φ80×1650

Oil tank capacity

L

500

Hopper capacity

L

600

Feeding height

mm

1400

Outlet diameters

mm

Φ185

Delivery pipe inner diameter

mm

Φ125

Power system

Diesel Power

( Deutz diesel engine)

Kw

129

Rated rotate speed

r/min

2300

Idling speed

r/min

800

Voltage of battery cell

V

24V

fuel tank capacity

L

150

Hydraulic system

Hydraulic oil circuit type

Open circuit

Max. oil pressure of main system

MPa

32

Max. oil pressure of mixing system

MPa

14

Max. mixing rotate speed

r/min

24

Other parameters

Concrete slump

mm

80~200

Allowable max dia. of aggregate

mm

Pebble 50, crushed stone 40

Dimension(length×width× height)

mm

6600×1930×2190

Weight

Kg

6300

Pulling speed

Km/h

≤8
Electric HBT60S-13-90 Specifications:
Item

Unit

Parameter

Pumping system

Max. theoretical delivery volume

m³/h

60

Max. theoretical delivery pressure

MPa

12.5

Max. delivery frequency

times/min

22

Distribution valve type

S tube valve

Main oil cylinder specification: cylinder dia./pole dia.× journey

mm

Φ125/Φ80×1650

Concrete cylinder specification

mm

Φ200

Hopper capacity

L

600

Output opening diameter

mm

150

Hoisting height

mm

1400

Power system

Main electric motor power

KW

90

Rated voltage

V (AC)

380

Rated rotation speed

r/min

1480

Hydraulic system

Type of Hydraulic oil circuit

Open circuit

Main oil pump

Japanese Kawasaki

Maximum system oil pressure

MPa

32

Maximum oil pressure of mixing system

14

Highest mixing rotate speed

r/min

24

Hydraulic oil tank capacity

L

420

Allowed max dia.of aggregate

Pebble50, crushed stone 40

Inner dia.of concrete delivery pipe

mm

Φ125

Max. delivery distance

horizontal

700m

vertical

180m

Dimension (length× width× height)

In transit

mm

6170× 1800×2100

Weight

kg

5000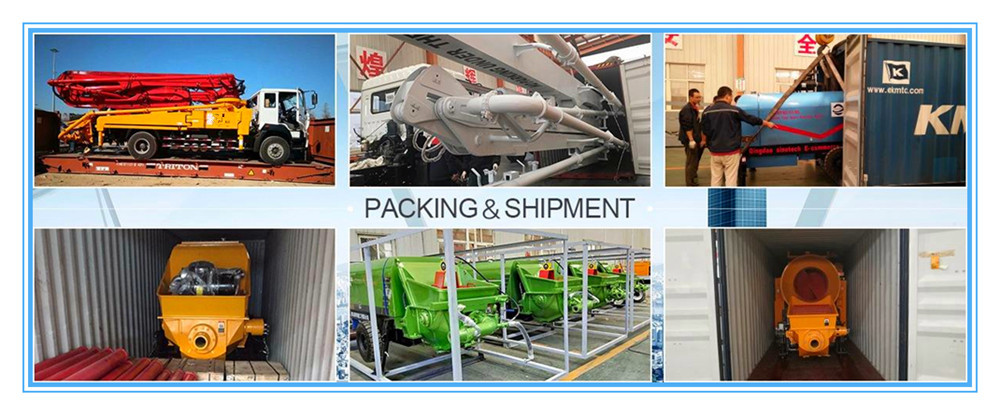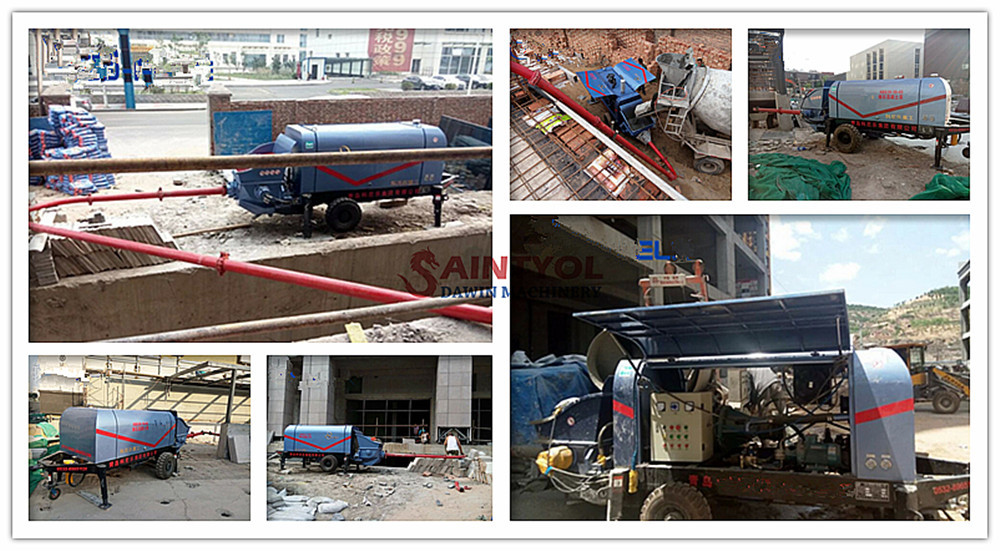 Concrete Pump E-Brochure Download