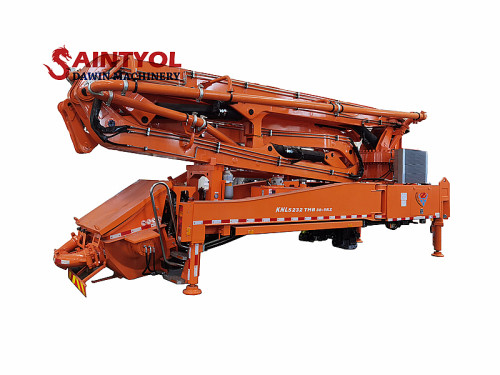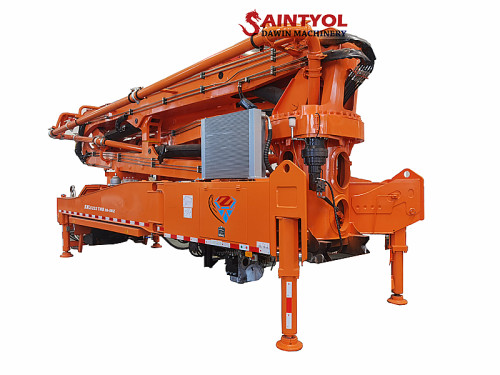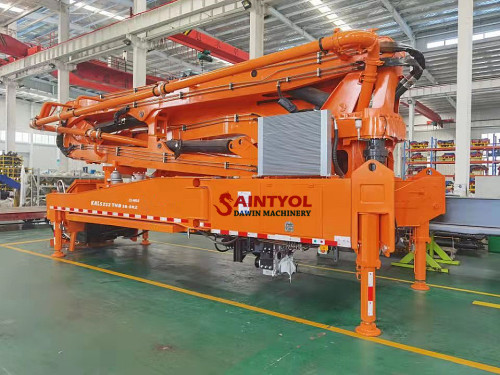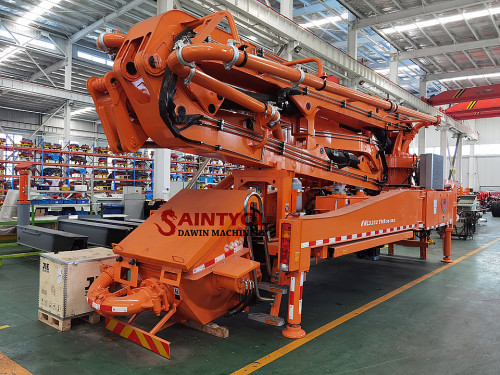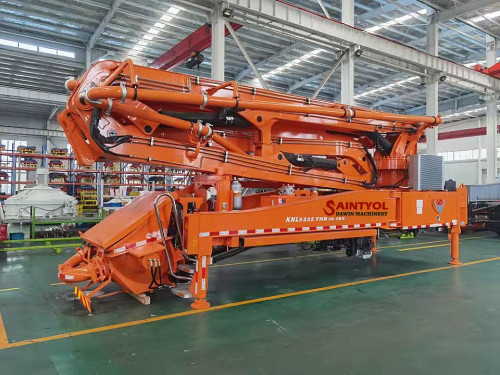 Upper Part Supersture38m 5RZ Truck Mounted Concrete Boom Pump Without Truck Chassis
Item specifics
Max. Theor. Output(high/low pressure)

66/111 Mpa
Rated Working Pressure

32Mpa
Oil Cylinder Dia.×Stroke

φ125×1650
Concrete Cylinder Dia.×Stroke

φ230×1650
Placing Boom Structure Type

38-5RZ
Max. Placing Height

37.3
Horizontal Placing Radius

33.5
Placing Depth

29.5
Chassis Model

HOWO, ISUZU, Benz etc
Drive Direction

Left or Right in option
Description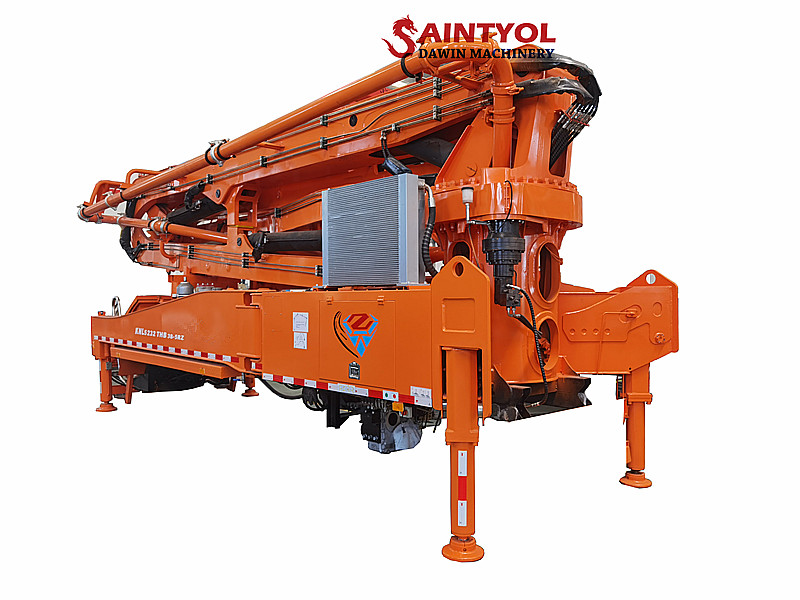 Instruction:
Customized specialized 38 meter remote control truck mounted concrete boom pump( without chassis) is combined with high reliability, economy, safety and durability.It has reasonable collocations for the chassis system, power system, control system, hydraulic system and pumping system. With the characteristics of flexible fold able arms, little space occupying support legs, easily movable chassis, equipped with H/L pressure switch, high outlet pressure, the whole concrete pump truck. 38 meter remote control concrete pump truck is more flexible, reliable, stable and safe. It is the top-choice concrete equipment widely used in tunnel, airport, seaport, high-speed rail site, beam field, bridge construction projects and so on.

As different country has different requirement on the truck, if you have truck in hand, that's also available only selling our concrete boom pump without truck.

Concrete pump truck is the refined product after trailer concrete pump,concrete line pump, HGY hydraulic concrete placing boom, and it is the high efficient concrete conveying equipment integrating concrete pumping and placing. The boom covers high reliability, economy, safety, durability, owing reasonable matching of chassis, power, electric control and hydraulic pump system.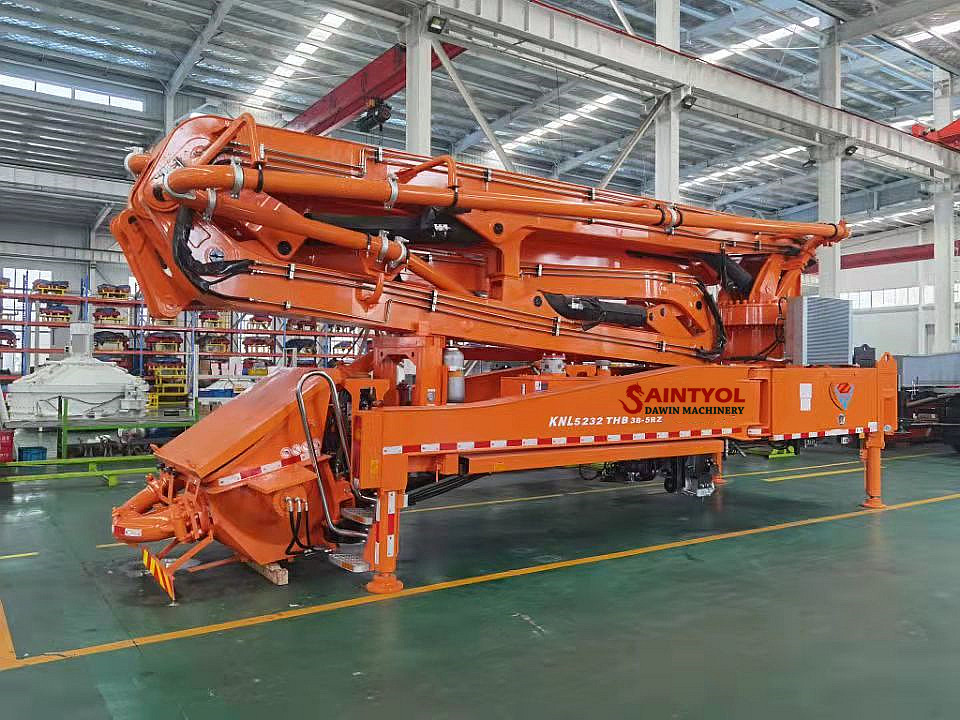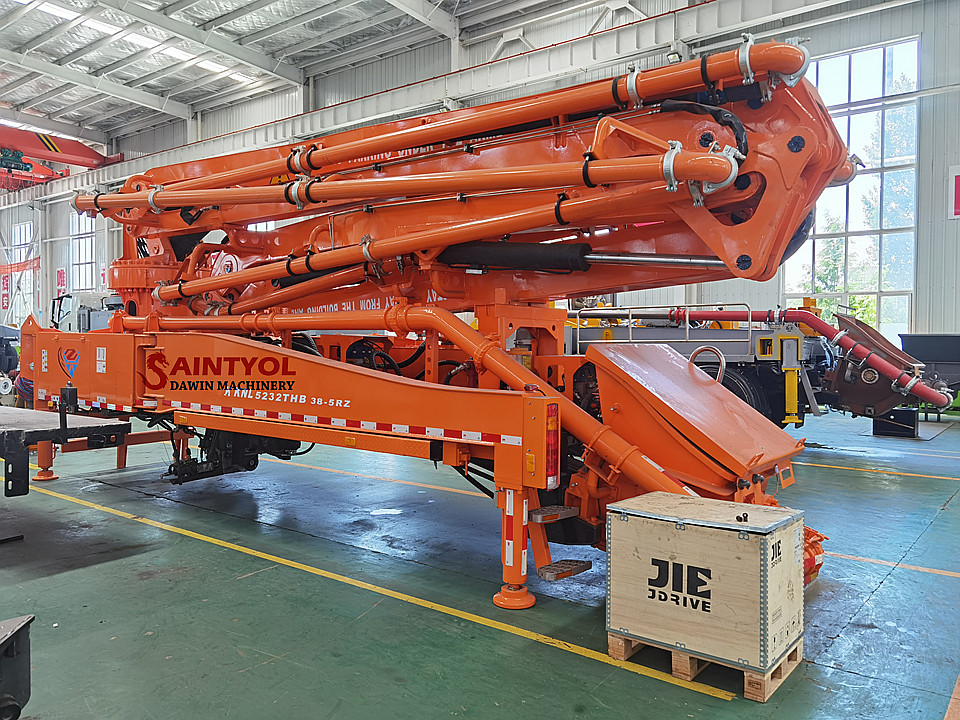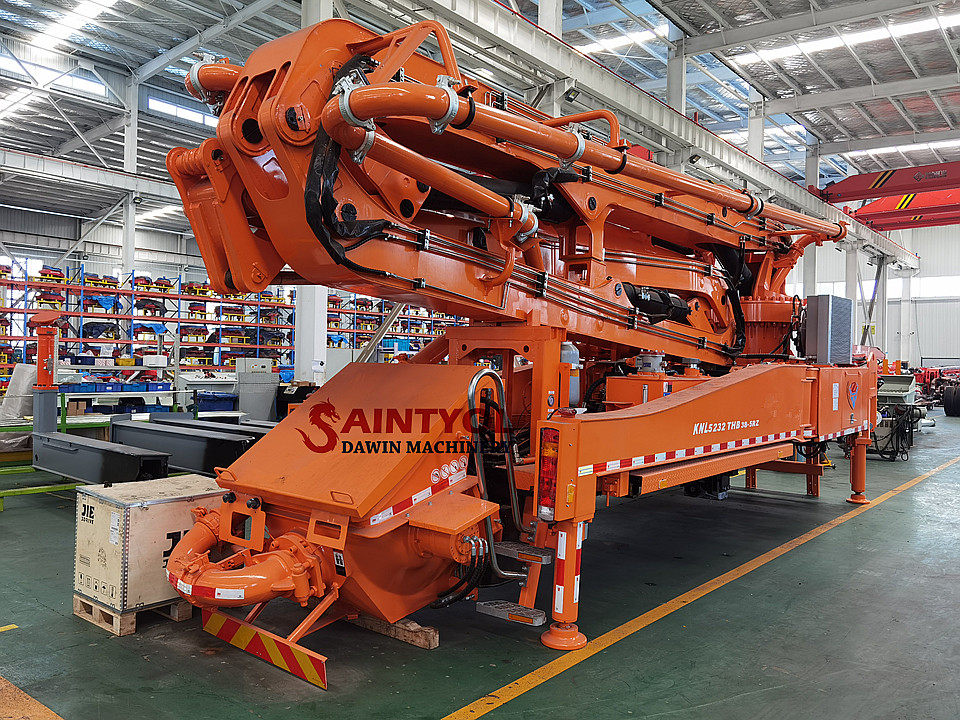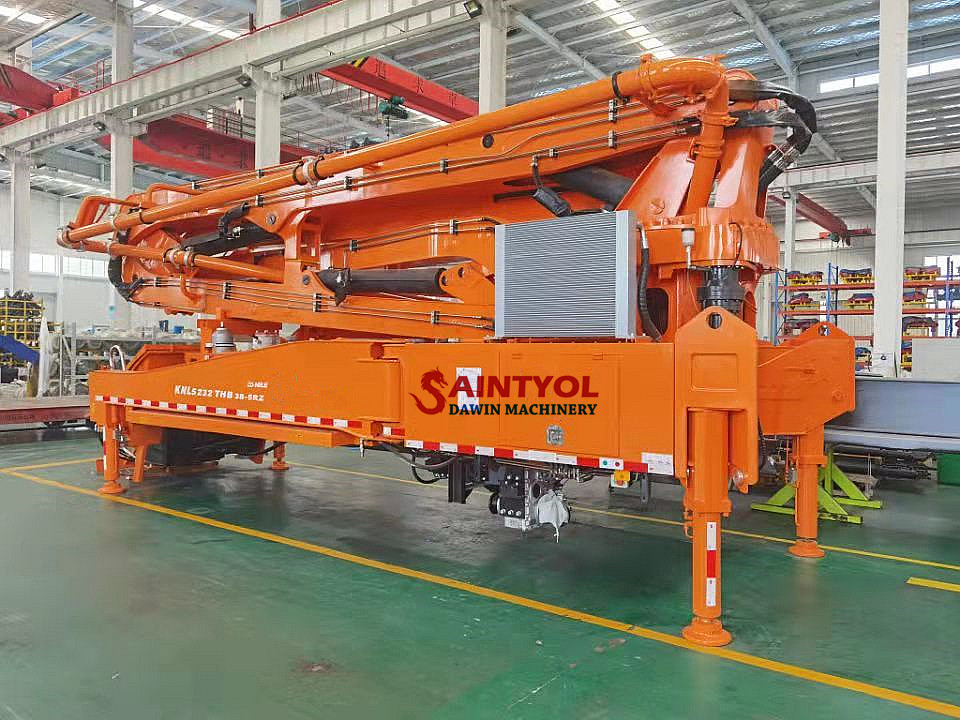 型号 Model

KNL5232THB 38-5RZ

项目 Item

单位 Unit

值 Parameter

泵送系统

Pumping System

最大理论输送量 (高压/低压)

Max. Theoretical Concrete Output (H/L Pressure)

m3/h

66/111

混凝土最大出口压力 (高压/低压)

Max. Theoretical Output Pressure (H/L Pressure)

MPa

9.5/5.6

额定工作压力

Rated Working Pressure

MPa

32

泵送频率 (高压/低压)

Pumping Frequency (H/L Pressure)

min-1

16/27

料斗容积

Hopper Capacity

L

600

上料高度

Feeding Height

mm

1400

液压系统型式

Hydraulic System Mode

开式

Open Loop

分配阀形式

Distribution Valve Mode

S管阀

S Valve

油缸缸径×行程

Oil Cylinder Diameter × Stroke

mm

Φ125×1650

混凝土缸径×行程

Concrete Cylinder Diameter × Stroke

mm

φ230×1650

液压油冷却

Hydraulic Oil Cooling

风冷

Air Cooling

推荐塌落度

Recommended Concrete Slump

cm

12~23

最大骨料尺寸

Max. Aggregate Dimension

mm

40

臂架

Placing Boom

结构形式

Structure Type

38-5RZ

最大布料高度

Max. Placing Height

m

37.3

最大布料半径

Max. Placing Radius

m

33.5

最大布料深度

Max. Placing Depth

m

29.5

回转角度

Slewing Angle

±270° (540°)

输送管直径

Delivery Pipe Diameter

mm

125

末端软管长度

End Hose Length

mm

3000

臂架最小打开高度

Min. Height Of Opening Placing Boom

mm

9500

支腿跨距(前×后×纵向)

Outriggers Span (Front × Rear × Side)

mm

6270×7890×7046

底盘及整车Chassis & The Whole Machine

底盘型号

Chassis Model

ZZ5235N5213F1

轴距

Wheelbase

mm

5200

发动机型号

Engine Model

MC07.31-60

发动机额定功率

Engine Rated Power

kW

228

燃油箱容积

Fuel Tank Volume

L

400

尾气排放标准

Tail Gas Exhaust Standard

国VI

EURO VI

整车外形尺寸 (长×宽×高)

Overall Dimension (L x W x H)

mm

10560x2550x3740

其它Others

润滑方式

Lubrication Mode

手动液压两用同步润滑泵

Manual Hydraulic Dual Purpose Synchronous Lubricating Pump

液压油箱容积

Hydraulic Oil Tank Volume

L

500

控制方式

Control Mode

手动+遥控

Manual+Remote Control

压力水箱最大压力

Max. Water Tank Pressure

MPa

0.8

水箱容量

Water Tank Volume

L

400

混凝土管清洗方式

Concrete Pipeline Cleaning Mode

水洗/干洗

Water/Dry Cleaning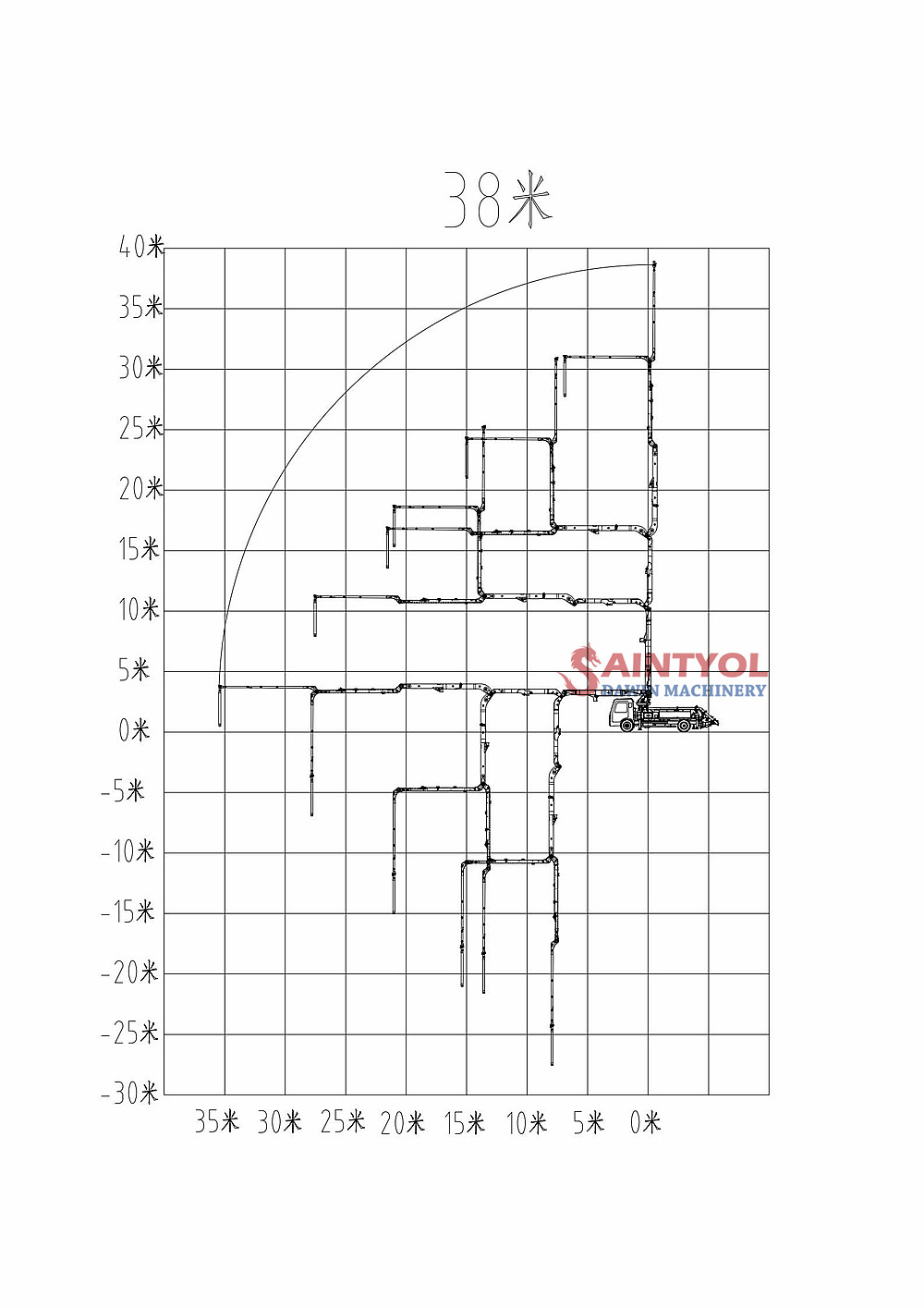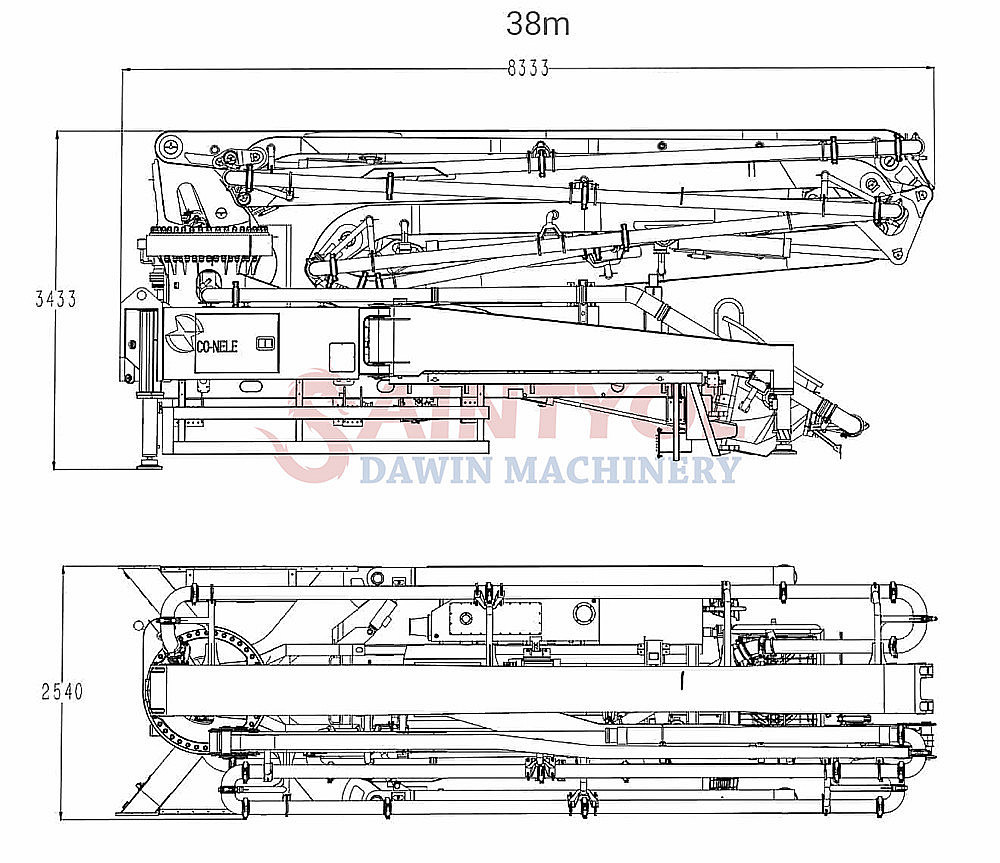 Hydraulic rubber hose joints

The hydraulic rubber hose joints are products of American Eaton, insuring the safety and no leakage of hydraulic system.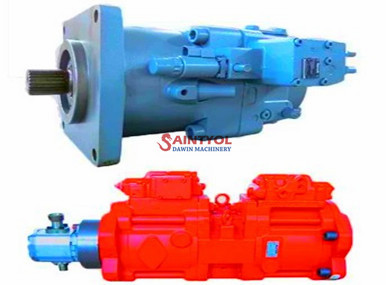 Main oil pump

Main oil pump adopts REXROTH or Japanese KAWASAKI variable plunger pump to insure system stable and reliable, with functions of overpressure and overflow to effectively protect main oil pump and diesel engine.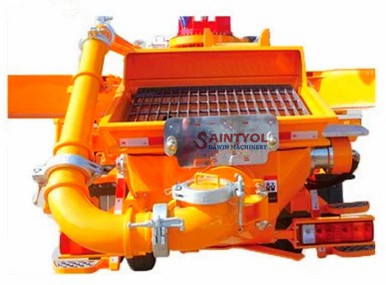 Hopper

Latest version whole stamping hopper is new optimization on inner line, suction rate improved by 20%, no sticking materials, easy to clean.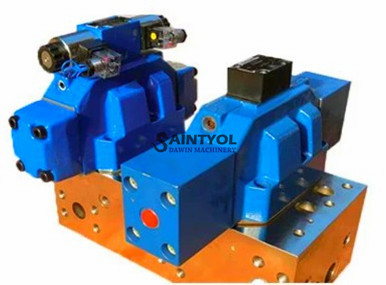 Pumping hydraulic system

Overall hydraulic control system and oil pressure signals make operation more simple and reliable,improve the swing cylinder reversing speed and reduce the reversing impact.At the same time,the large oil cylinder reversing moment action could be accelerated and the concrete cylinder would be fully filled, making concrete output continuous and smooth.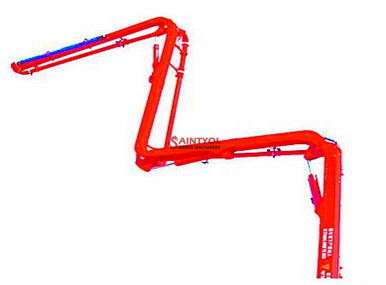 Jib structure system

Jib structure system is based on the finite element analysis, dynamic analysis and test, and the accurate date support.High strength low alloy steel plate,all materials and welding line by 100% non-destructive technology ensure the jib structure reasonable and highly reliable.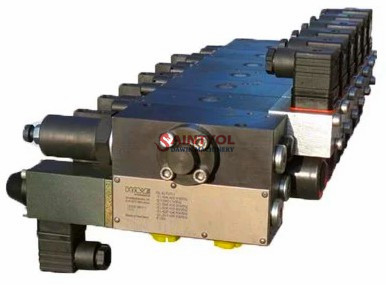 Hydraulic system of jib structure and support legs

Electro-hydraulic and manual multiple valves ensure wireless remote control and manual control in case of emergency.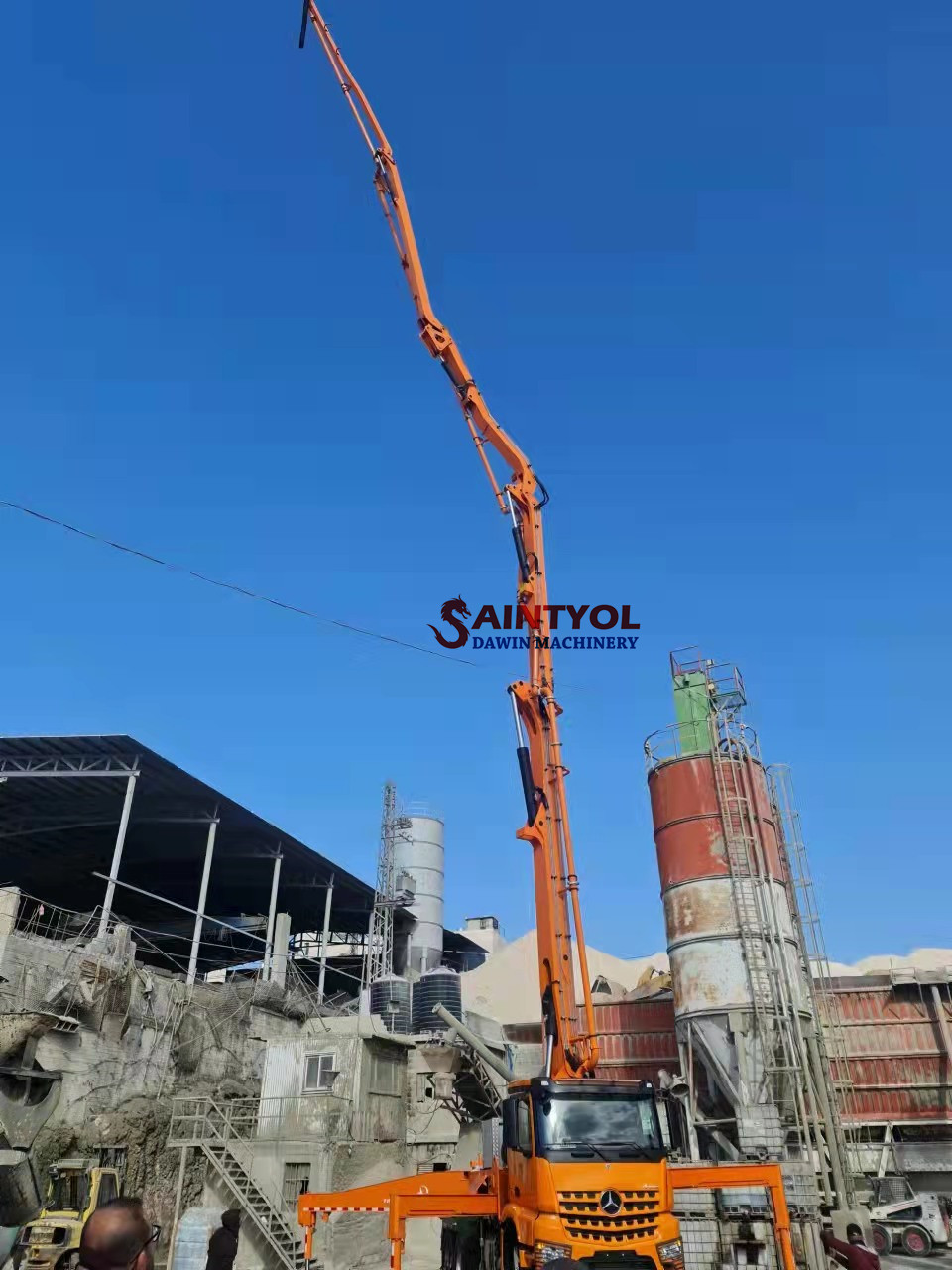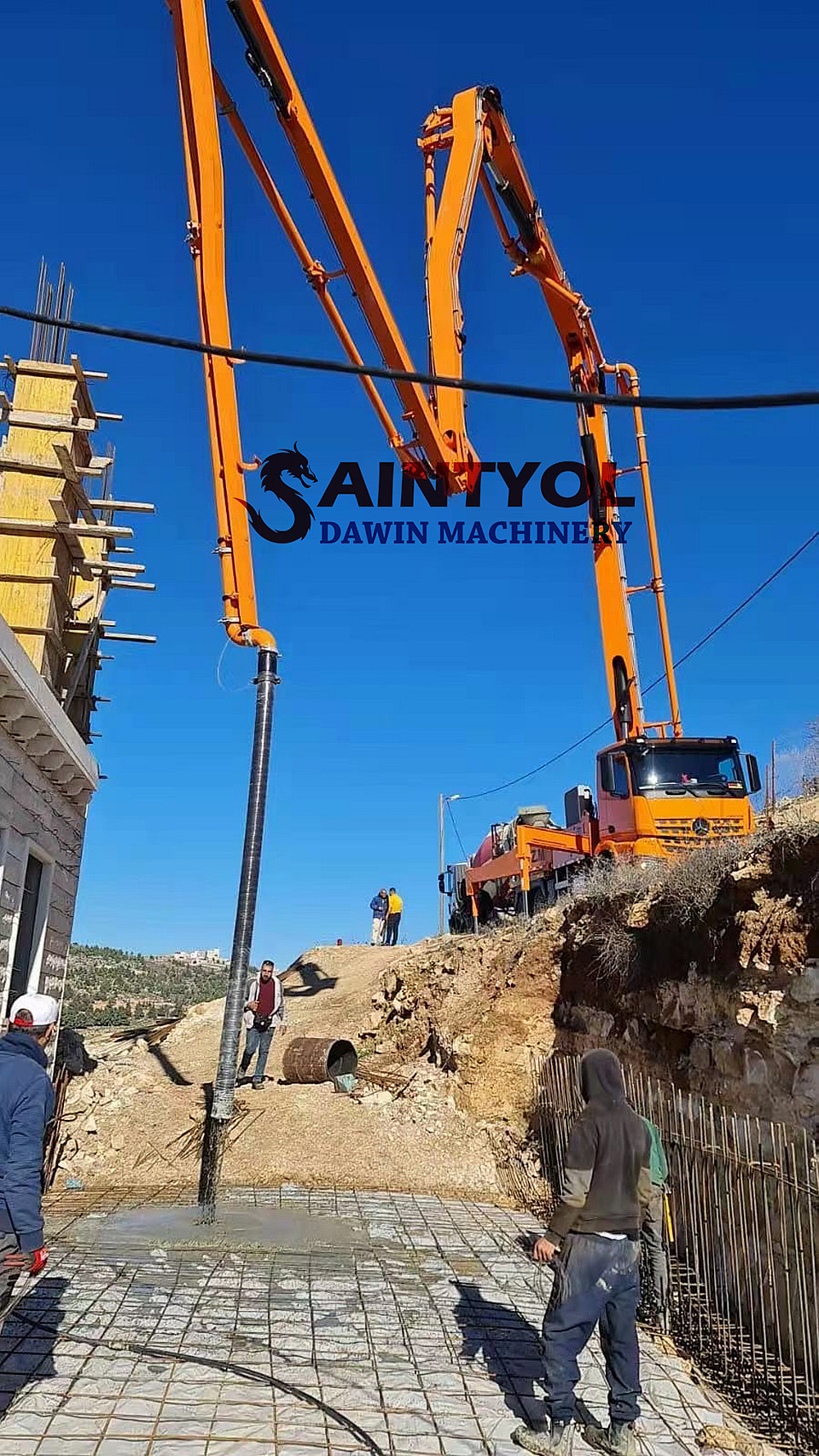 38M Customized costomer specific truck mounted concrete boom pump upper part superstruture.
1) Full hydraulic control technology.Fast fault location,saving time more than 50% in fault detection.
2) Hydraulic oil level auto-detection and radiating technology.
3) Full hydraulic commutation technology.Commutation time 10% lower,pumping efficiency 20% higher.
4) Double-engine system.Only 40% of oil consumption in same industry.
5) Unilateral operation technology.It is convenient working in small construction site,effectively avoid overturned accidents.
6) Intelligent electric control system, simple structure, reducing electric faults.
7) All weld lines by 100% nondestructive flaw detection.
8) Advance Jib Structure Technology. Flexible and efficient placing, No blind angle.
Client Inspection & Testing Video: