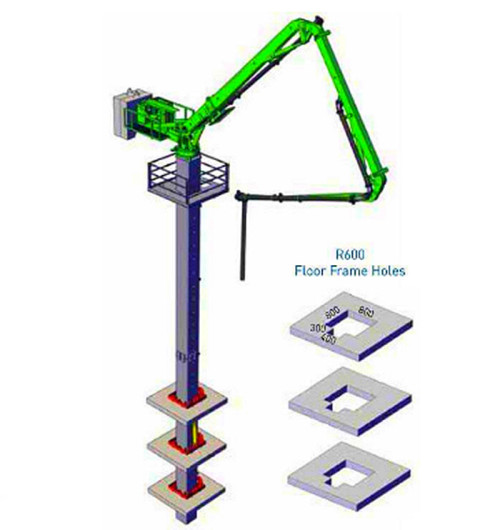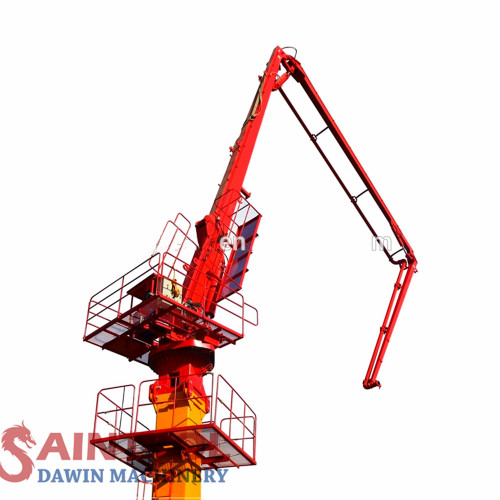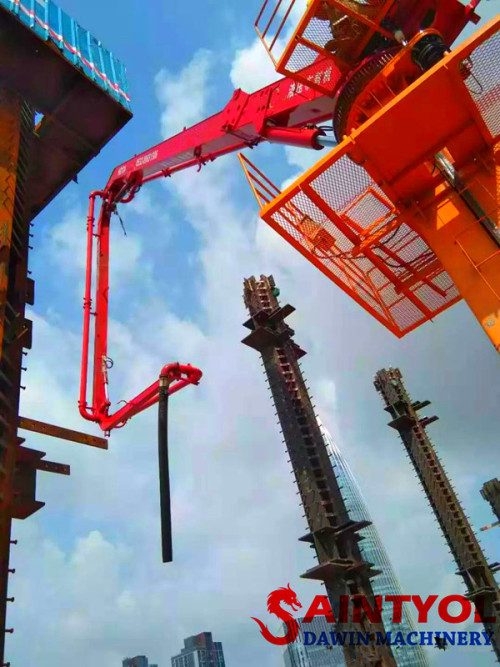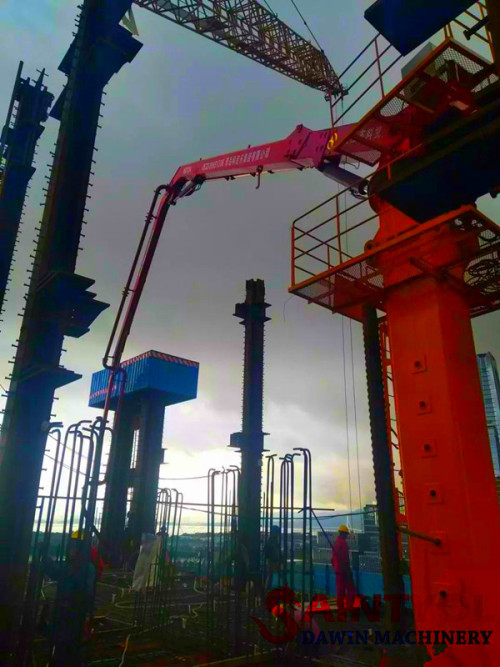 29m 3 sections R Folding Stationary Tower Hydraulic Jack-Up Concrete Placing Boom
Item specifics
Motor

11KW
Freestanding height (to the joint between the end

22.7m
Placing Radius

28.9m
Boom Sections

3 R
Certificates

CE , SafeWork
Hydraulic System Pressure

30 Mpa
Description
HGY29C Tower Self Jack-Up Hydraulic Concrete Placing Boom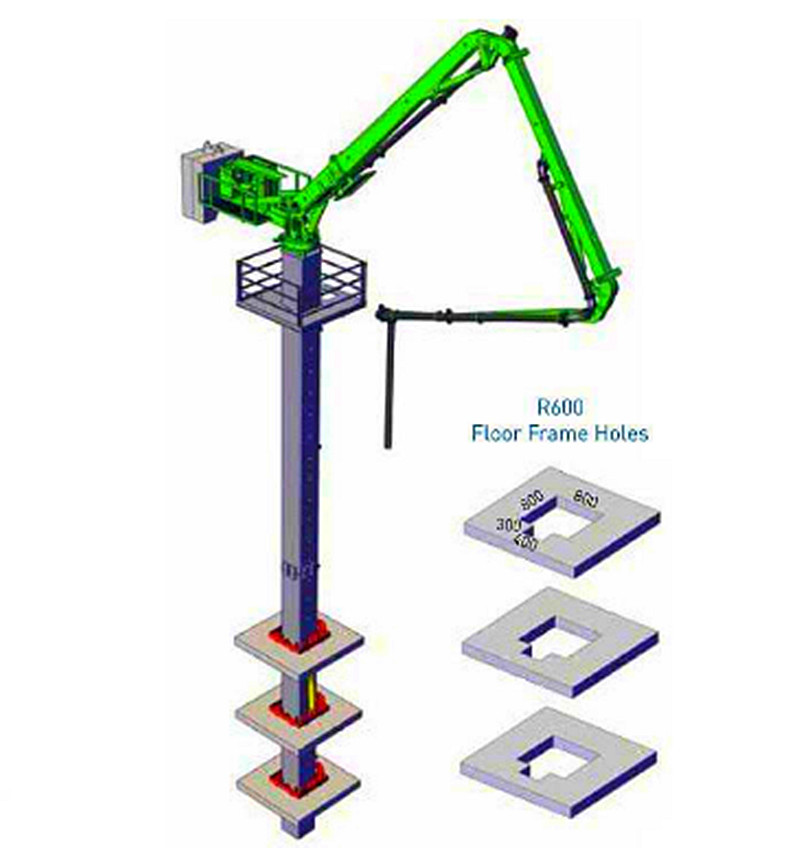 Instruction:
1) Leading Boom Technology
Finite element analysis
By combining modern design elements such as finite element analysis and structural optimization, our booms have a more intelligent structure, lighter weight, and longer service life.
Hoisting stability test
Tower hydraulic jack-up concrete placing booms
are safe and reliable and won't let you down on the job. Before delivery, each placing boom is subject to strict stability tests to ensure each one is leakage-free, resistant to high pressure, and performance-stable.
Boom system fatigue test
Our self-developed
concrete placing boom boom
fatigue tester carries out strict fatigue tests for our booms in order to guarantee their durability, safety, and reliability.
Our full-hydraulic control technology is appropriate for the entire range of boom movements, featuring stepless regulation of boom operation. It employs a load-sensitive proportional control system with pressure compensation to easily change the running speed of booms. The user has complete speed control by regulating the angle of the control lever, and the placing boom is able to reach optimal operating performance.
Top-of-the-line intelligent electric control system
Saintyol DAWIN self climbing hydraulic jack up placing booms use German-built Siemens PLC (programmable logic controller), equipped with local control, wire remote control and 100m ultra long-distance remote control. Four frequency bands can be selected with a simple operation, allowing for both comfort and convenience. The quality of our PLC ensures high reliability.
Balance valve controls boom cylinder to guarantee safety
At Saintyol DAWIN, we value our users'safety. The balance valve control has precise placing and boom self-locking functions, which effectively prevent accidental falls of booms.
3) Efficiency and Durability
Extensive application of modular design technology and rapid connecting devices allows you to quickly and conveniently install placing booms, helping you to be productive as fast as possible.
Double-layer wear-resistant delivery pipes extend service life up to 30,000-50,000m³, which is 3-5 times the service life of ordinary delivery pipes.
Saintyol DAWIN concrete placing booms can solve a wide range of needs, from placing radius of 13 to 33m. Placing booms can be installed on the floor, in an elevator shaft, in a tower, on board a rig, as a mobile type, dedicated for high-speed rail, and more.
Telescopic supports with space beyond imagination
Saintyol DAWIN tower concrete placing booms can adapt to different location. For placing booms in elevator shafts, the telescopic supports designed by Saintyol DAWIN have an independent climbing system that can satisfy installation in elevator shafts or on curved walls of different dimensions.
Fully automatic stepless lifting of climbing device
For self climbing concrete placing booms on the floor, our booms use cylinder. For climbing placing booms within elevator shafts, climbing is jointly fulfilled by fully automatic stepless lifting climbing frame with double electric hoists. No matter where you setup your boom, Saintyol DAWIN ensures a fully automatic lifting experience while climbing the boom.
Model

Units

HGY29C

Performance

Max.radius of placing boom

m

28.9

Freestanding height (to the joint between the end of the boom and swivel table)

m

22.7

Boom articulation

°

400

Slewing brake

/

always close

Working temperature

℃

0℃~60℃

Total weight

kg

19100

Counter weight

kg

Have no

Power

/

380V/50HZ

Motor

Model

/

Y2-160M-4

Power

kW

11

Hydraulic system

Pressure

MPa

30

Flux

l/min

18

Hydraulic oil

Circumstance temperature 35℃-50℃

/

L-HM 68

Circumstance temperature 5℃-35℃

/

L-HM 46

Circumstance temperature -15℃-5℃

/

L-HM 32

Control mode

/

Short-haul Control /radio remote control

Pipeline cleaning

/

Wet cleaning/Dry cleaning

Structure of tower body

/

Tubular column

Section of tower body

m×m

0.75×0.75

Boom

Shape

/

Three hydraulic foldable arms

Inner diameter of pipeline

mm

DN125

End hose

″×mm

5″×3000

1st section

Length

m

11.5

Articulation

°

0°~82.5°

2nd section

Length

m

9.3

Articulation

°

0°~180°

3rd section

Length

m

8.1

Articulation

°

0°~180°

Climbing

Climbing mode

/

By hydraulic cylinder climbing

Interval of climbing

m

0.52

Floor frame

/

Hole prepared in floor

Shaft frame

m

Hole prepared in floor

2.0~2.7

Min.Interval of climbing frame

Climbing

m

3.0

Placing concrete

m

6.0

Rest

m

6.0
HGY29C Drawing & Working Range: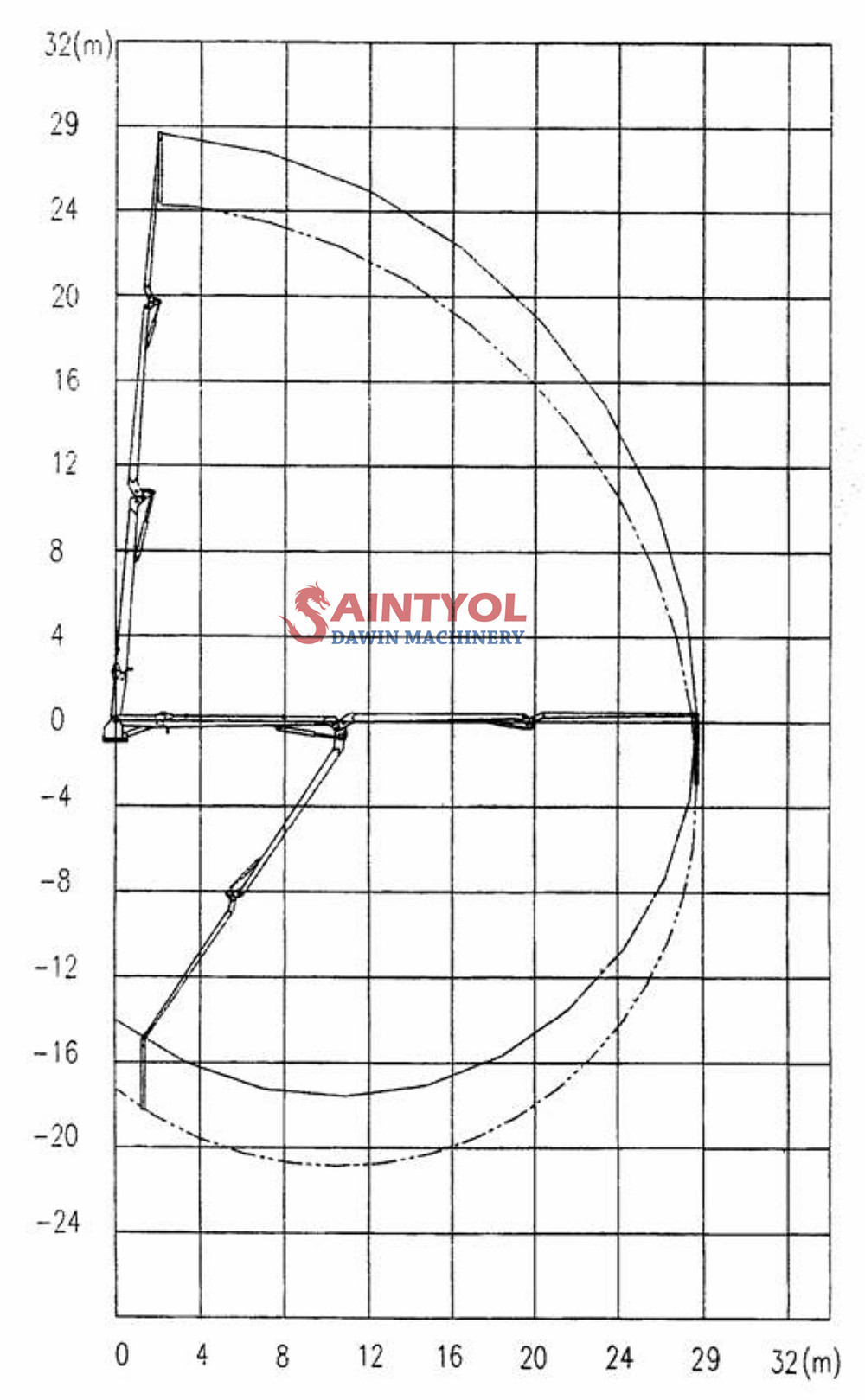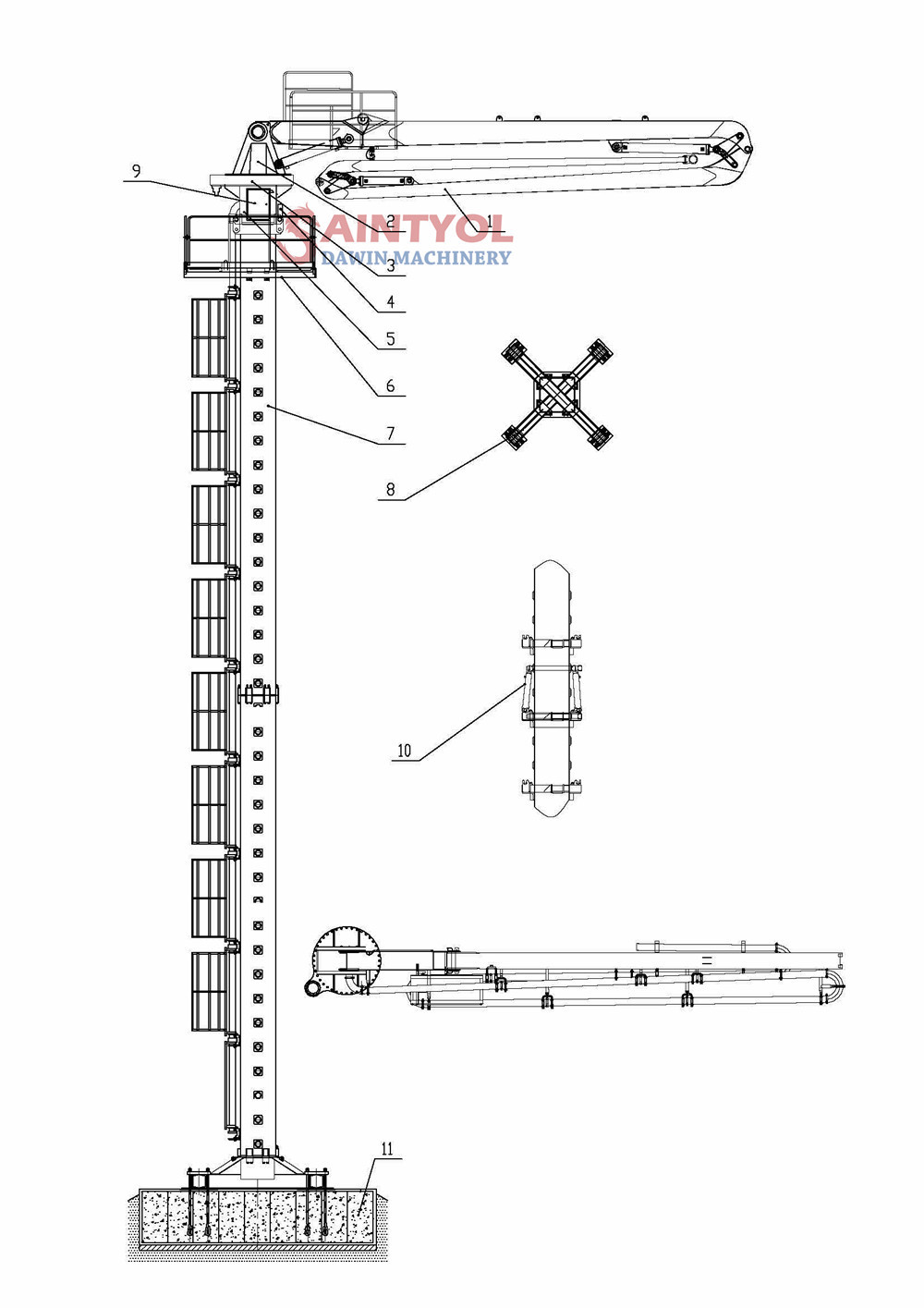 Boom
The
placing boom
takes advantage of mature manufacturing platform of boom design of truck-mounted concrete boom from famous manufacturers. On the base of accuracy data, the boom structure is optimized through finite element analysis, modal analysis, dynamics simulation analysis and endurance test on model machine. The accuracy of design and data is assured through powerful test and industrial assess means. The same-class weld manufacturing technique is adopted for the boom, the quality is excellent. The placing range can be changed by assembling or disassembling the extension boom to meet different placing working condition more neatly.
Rotary table and slewing mechanism
The slewing support is a large-sized bearing which connects the boom and the column, and bears the overturning moment produced by the boom. It is a key component that directly affects the whole machine's safety. The motor redactor is from Comer in Italy. It is in a high speed rate, and long life span and reliable. The hydraulic motor can rotate the slewing table and the boom 365°through the redactor.

Tubular column
The fortified tubular column is adopted. Deformation of the head of the tubular column is 20%~25% less than congener products, it improves the precision for pouring concrete and reduces vibration of the tube.
The connecting structure parts are optimized, and the rigidity of the column is well and the vibration becomes less.
Climbing device
Two climbing modes are for choice: climbing device on floor and climbing device in elevator well. The climbing structure has been optimized and inclined block auxiliary structure is adopted in the tubular column. All can eliminate the error effectively for drilling holes in the floor.