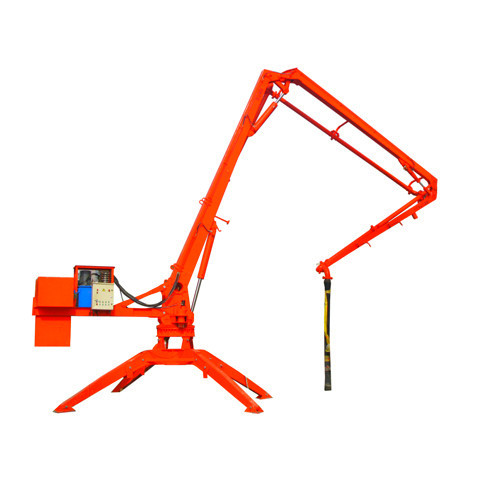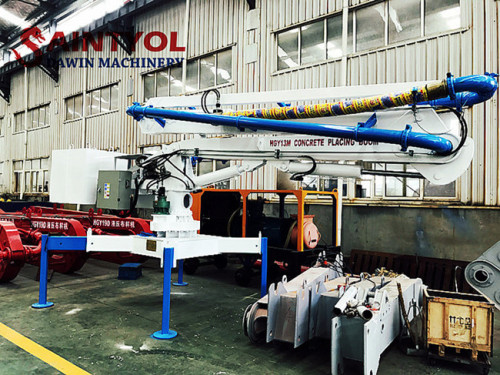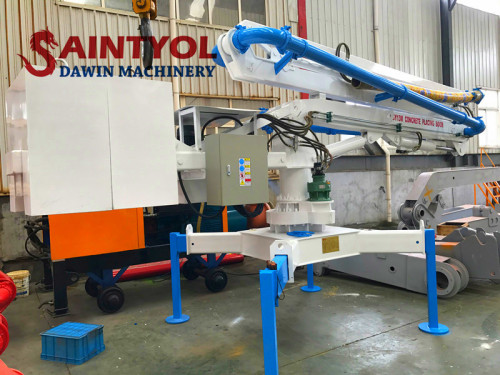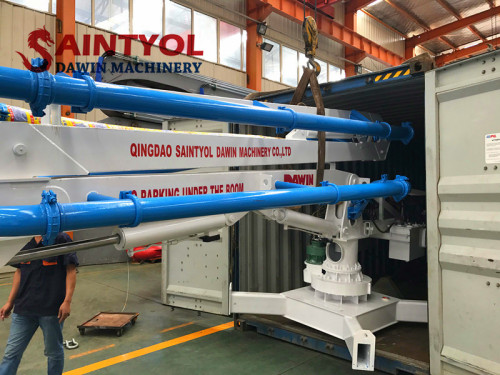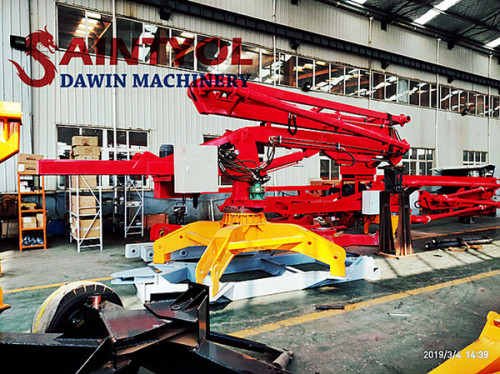 13m 3 sections Trailer Mobile Spider Hydraulic Concrete Placing Boom
Item specifics
Placing Radius

13m
Motor

4KW 5.5KW
Folding Section

3
Drive Model

Full Hydraulic
Valve

Proportional & Manual Lever
Control

Wireless Remote
Trailer System

4 Wheels
Delivery Pipe

DN 125mm
Outriggers

Foldable & detachable
Description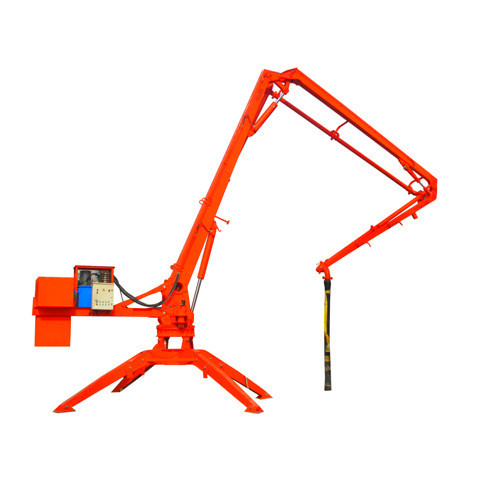 Saintyol DAWIN machinery
concrete placing boom
is featured by Excellent quality, high efficiency, rapid installation and 360° rotation. The concrete placing booms prove their worth in various applications including high rise buildings, nuclear power plants, railways, bridge, etc.
Separate concrete placing booms
can be used when a boom truck is unavailable, or in situations where the boom truck may not be able to conveniently access the pour site.
Combined with the right concrete pump, these placing booms provide a systematic method of concrete distribution.
For instance, contractors use the truck-mounted pump with placing boom in its conventional mode for part of a day on slab pours or other ground level placements and quickly remove the boom (with the aid of a tower crane) for remote placements later in the day. Typically, the boom is remounted on a pedestal, which can be located hundreds of feet from the pump and connected with a pipeline.
Saintyol DAWIN machinery 3 section
Spider placing boom
is a practical and economical solution for placing concrete in hard to reach areas. If an area can't be reached by a truck mounted or stationary concrete pump, this is a perfect solution.
The Spider placing boom is easily installed on the jobsite and can connected to any of our boom pumps. This helps pour large areas without needing to work with the traditional heavy line systems
A.Auto robot cordless remote control system.
B.Proportional valve, manual levers and control system in options to ensure the placing boom could work normally in any conditions when meet problems or not.
C.Crack detection in welding manufacturing process to keep each concrete placing boom would be in safe working on job sites before shipping.
D.Labors saving.The robot concrete placing boom with cordless remote control foldable arms section, 13m is "Z" shape, 15m and 17m are "R" shape, 21m and 23m are 4 sections "M" folding, very effective in light weight and labor saving on job sites.One man to control it easily.
E.Less wearing parts.There is no extra wearing parts to the
concrete placing booms
except for 1 year life changing the hydraulic oil filter and the delivery pipes in 50000m3 and more.
F.Easier transportation and installation. The
trailer mobile concrete placing boom
could be separated in several smaller pares to be lifted by crane on job sites and installed in short time.
G.Concrete pump partner. the concrete placing boom is the right end solution of concrete pumping system, it could be moved and touch to the every place sites on the jobs platforms.
H.Short manufacturing time.Trailer mobile concrete placing from Saintyol DAWIN machinery there would be common stocks to HGY13 HGY15 and HGY17 models, orders could be short into 15 days or less.
Model

HGY13

Boom length

13m

Hose length

3m

Rotatary angle

360°

Rotating speed

0.23r/min

Elevation angle

-2°~84.4°

System pressure

20Mpa

Motor power

4Kw

Revolution speed

0.2~0.3r/min

Drive mode

Fully hydraulic drive

Pipe type

φ125

Landing leg track

3.15×3.15m

Size:

6.6×2.0×3.1m

Weight

Self weight

2.7t

Balance weight

1.8t