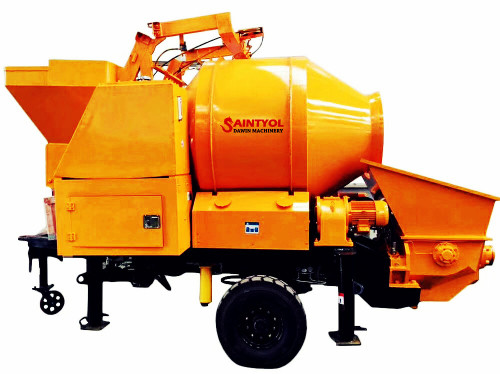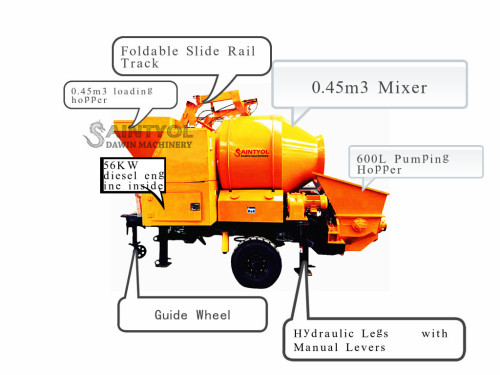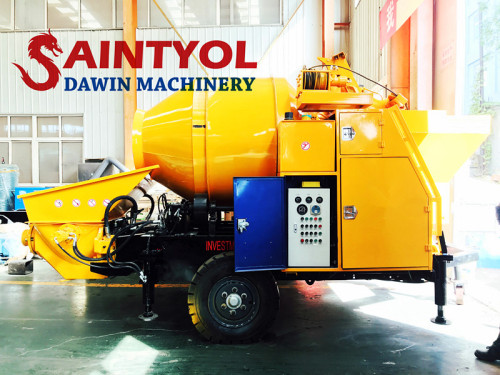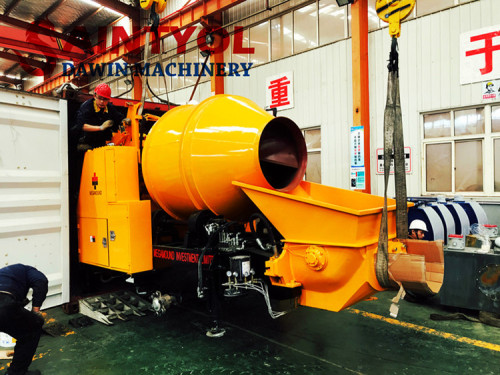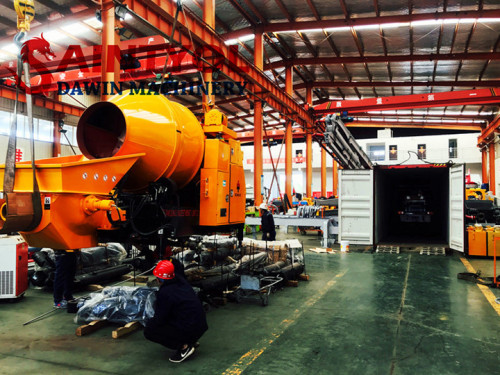 DJBT40-11-56 Trailer Mobile Diesel Concrete Mixing Pump, Concrete Mixer with Pump
Item specifics
Mixing Capability

15-20m3/hr
Pumping Capability

40m3/hr
Engine Power

LOVOL 56KW
Supporting Legs

4 Pcs Hydraulic
Delivery Cylinder

180mm Diameter
Valve

S
Mixing Tank

0.45m3
Description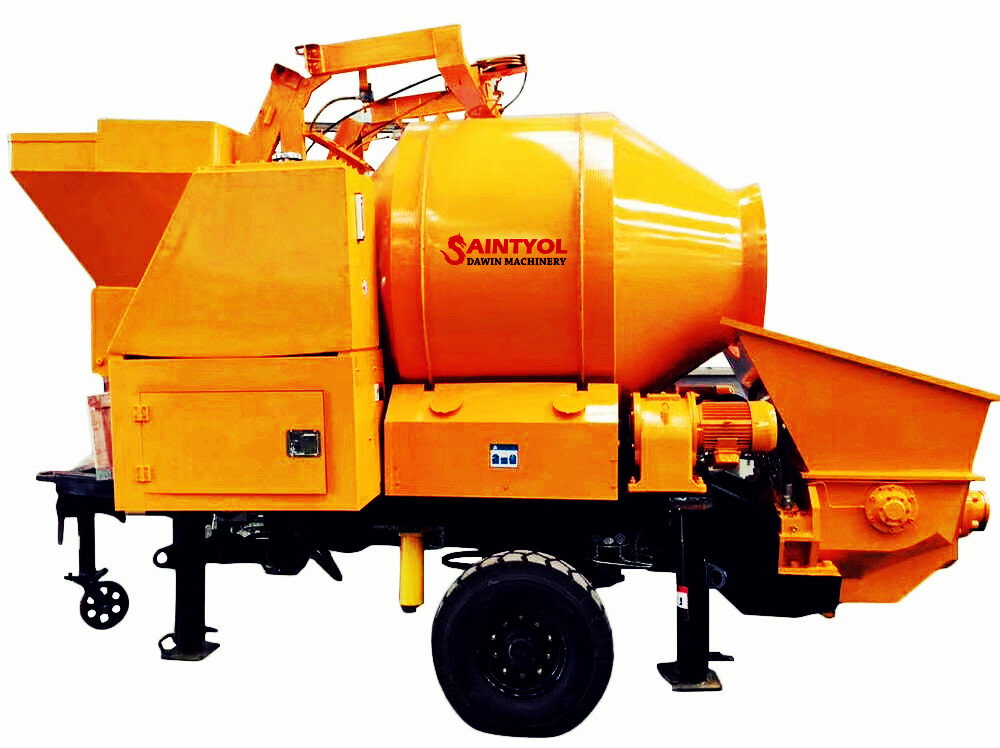 Instruction:
Saintyol DAWIN DJBT40
concrete mixer pump concrete mixing pump
is a new kind of engineering equipment of the combination of concrete mixer and concrete pump.It uses dual-cylinder hydraulic pumping system, small size and operating space and large concrete pouring and excellent characteristics of the mature and stable performance.The product is suitable for 2 to 12-storey small and mid building construction, and a variety of cave, roads, railway tunnels, water conservancy and hydropower engineering, geological hazards slope treatment works
Concrete mixing pump
or say concrete mixer with pump, concrete pump with mixer are made from high grade iron with perfect welding and assembling process in pumping and mixing multi-application capability for different construction jobs.
A: Quality mixed concrete output.
B. Theoretical mixing capability in 15-20m3/hr.
C. Pumping capability in 30m3/hr or 40m3/hr/
D. Pumping system could be used separately for jobs.
E. 4 hydraulic control supporting legs, no need the crane to help the standing and moving on job sites, money and labors savable.
F.2 man control the whole machine, costs and labors saving.
G.Nice pumping performance, vertical pumping would be upto 160m and horizontal pumping would be upto 560m in theoretical.
H.Bigger aggregates allowed, the DJBT40 concrete mixing pump mixer and pumping system allowed the max 40mm-50mm aggregates rubble and pebble stones for concrete mixing.
I.The new design
concrete mixing pump
from Saintyol DAWIN Machinery is the right design which could be right fitted into the containers, easier in shipping by sea.
Item

Unit

Parameter

Concrete pump

and mixer

Max. theoretic concrete delivery volume

m³/h

40

Max. theoretic delivery pressure

MPa

11

Max. delivery frequency

times/min

26

Type of distribution valve

S tube valve

Main oil cylinder specification: cylinder dia./role dia.× stroke

Mm

Φ100×700

Diameter of delivery cylinder

Mm

Φ180×700

Hopper capacity

L

600

Discharging height

Mm

1070

Output opening diameter

Mm

150

Pipeline inside diameter

Mm

125

Mixing drum

L

450L

Power system

Rated power of pumping diesel engine

KW

Revolution

r/min

2200

Hydralic system

Type of Hydraulic oil circuit

Open circuit

Maximum oil pressure of main system

MPa

28

Max. mixing speed

r/min

42

Hydraulic oil tank volume

L

420

Other parameters

High and low pressure switch

Equipped

Procedure-control electric lubricating system

Equipped

Concrete slump range

mm

80~200

Allowed pumping maximum aggregate size

(standard concrete)

Pebble 50mm

rubble 40mm

Dimensions (L × W × H)

mm

4960×2050×2800mm

Max. delivery distance

I

horizontal

560m

vertical

160m

Weight

Kg

5000

Towing speed

Km/h

≤8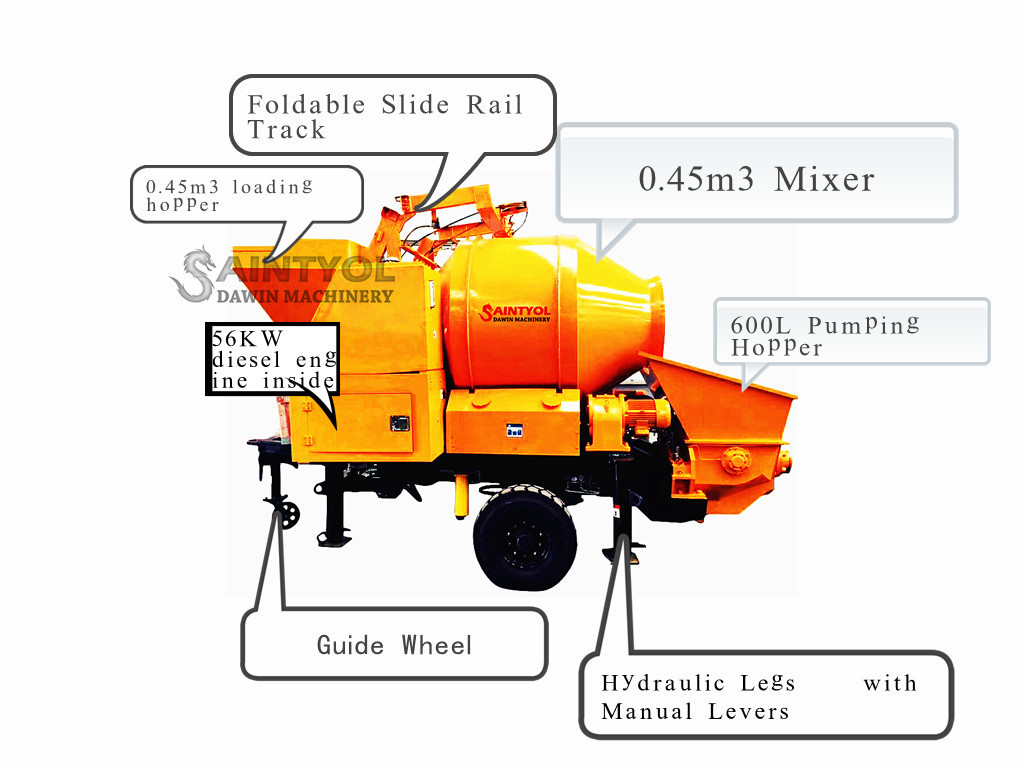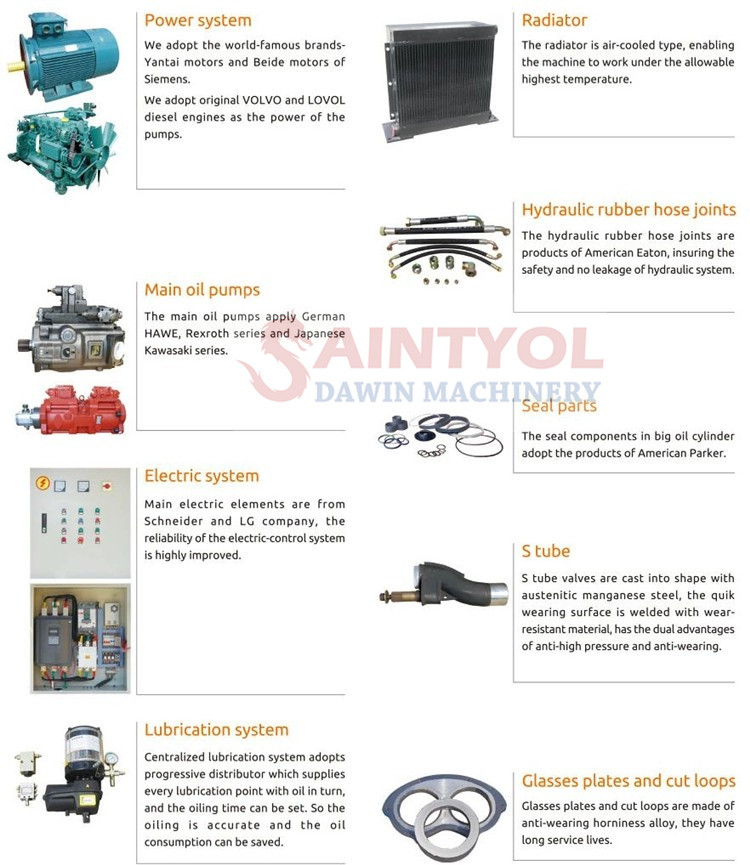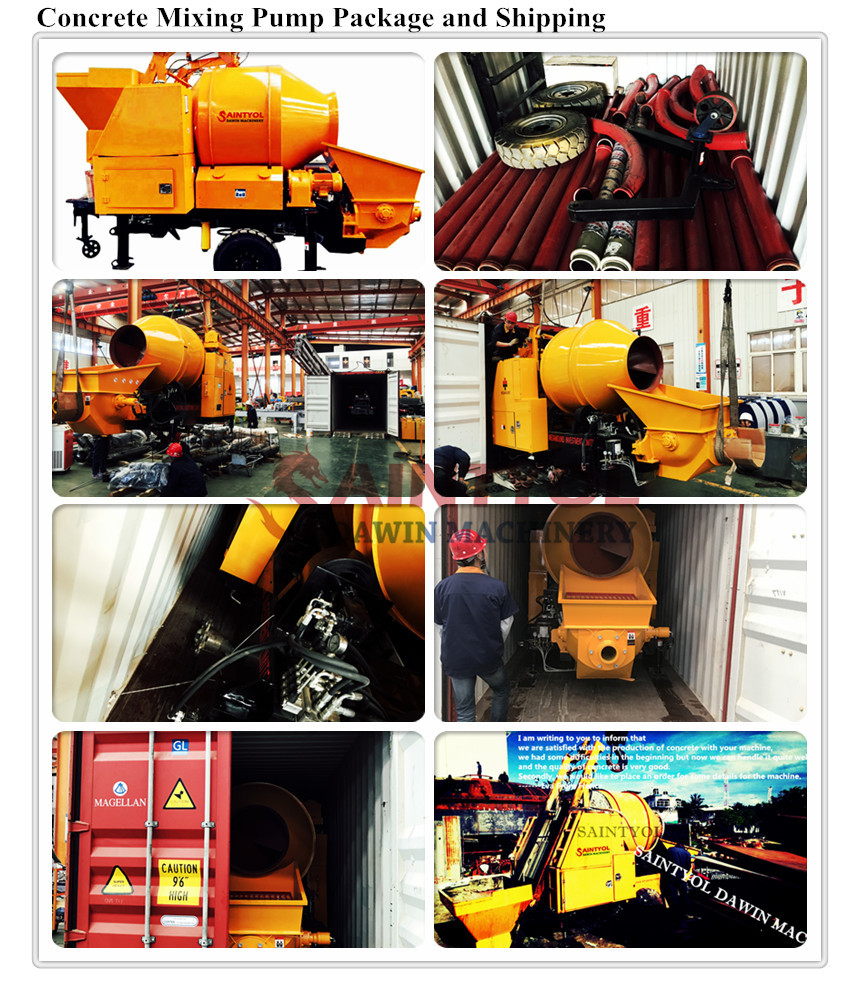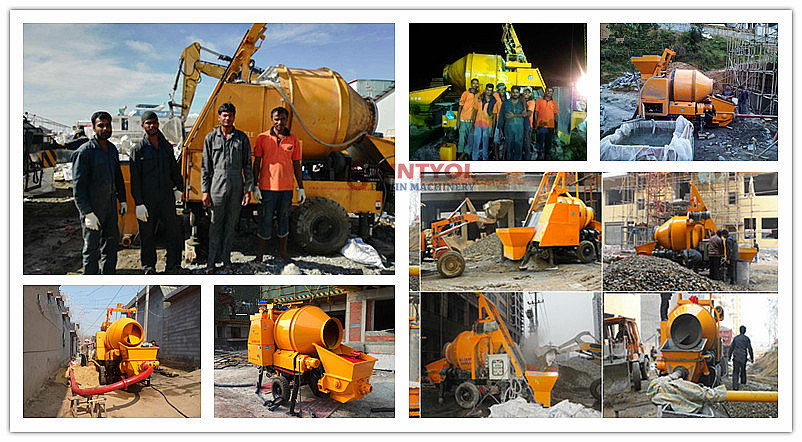 Testing & Job Site Video: