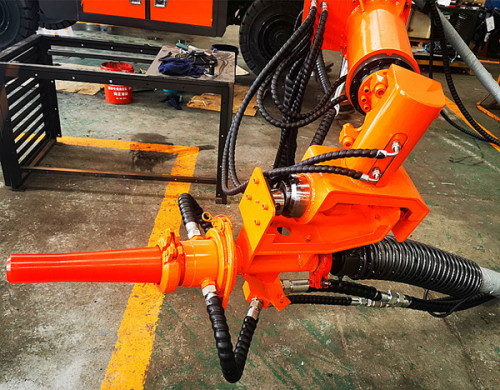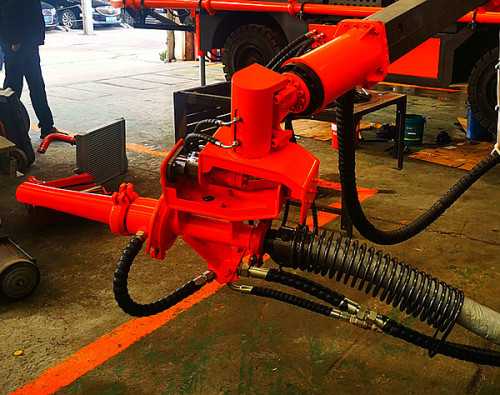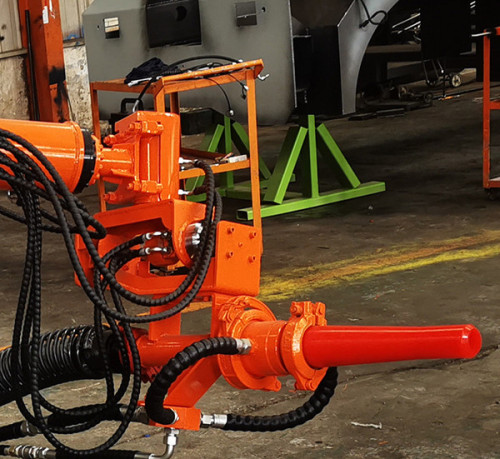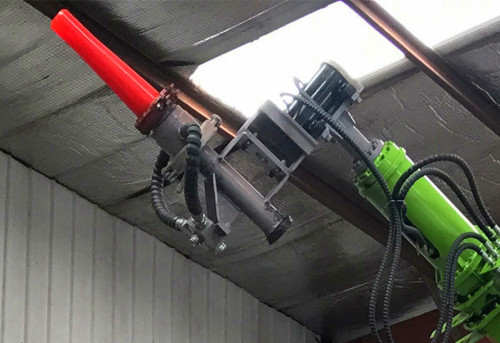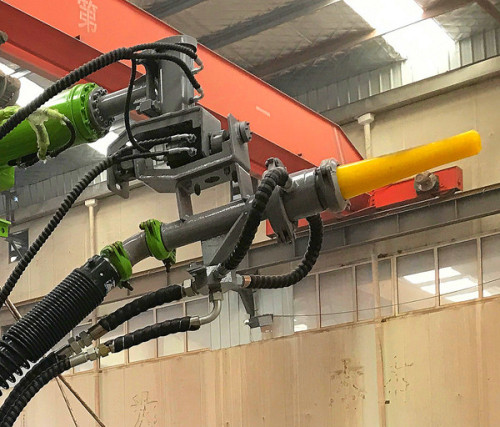 30m3/hr Excavator Quick Coupler Shotcrete Head, Mountable Shotcrete Spray Head
Item specifics
Max. theoretic concrete spray volume

30 m³/h
Power

Hydraulic Power from Excavator,No Need Extra Power
Max. stone diameter

≤15 When spray
Control

Wireless Remote
Description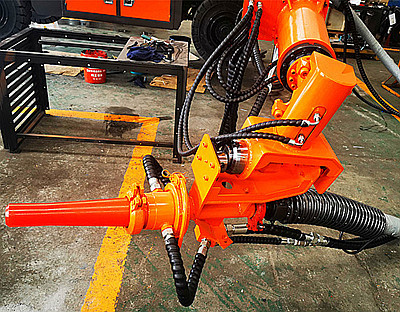 Instruction:
SDSPT-30 is the new designed shotcrete head quick coupler to mount to the excavator for wet concrete shotcrete spraying jobs.
It could quick transform your excavator as the boom robot shotcrete machine, The quick connect spray head compatible with any common quick-coupler system, and very simple to mount on your excavator.
It would be very effective when work with a Saintyol DAWIN shotcrete pump or the common concrete delivery pump, wherever you are keeping an excavator on the jobsite already, then you could use this spraying head to do the shotcrete jobs, including in slope or rock stablilizations or tunneling etc..
1. The shotcrete head could do all the actions as the robot shotcrete machine shotcrete truck via remote control.
2. No need additional power except for the hydraulic oil power from excavator.
3. The Spraying gun output calibre larger than common model, it is hard to jamp up, much more liquidity when working.
4. The mixed flow module could mix the wind and accelerator.
5. The brushing system design more rational, durable and longer life, less spare parts and more better and easier in daily maintenance.
6. The spraying gun inlet pipe diameter is 80mm, much bigger. the concrete aggregates passing ability is better, not easy in jamp up the pipe.
7.The remote control receiver ability is stronger, the valid max control distance is 100m.
The SAINTYOL DAWIN Machinery wet concrete shotcrete pump are based on technical pioneer achievements. They keep researching and developing new technology - and have been doing so for many years!They are the national initiative equipment for fine stone concrete conveying and won two national patents.
·Fine stone concrete conveying
·Floor heating construction
·Tunnel and underground construction
·Mortar conveying
·Used as spray pump when Installed with incidental spraying equipment, for concrete, mortar, refractory material and green soil spraying
wet concrete shotcrete pumpare applied for high-rise conveying, railway, tunnel, bridge construction and special applications, hydraulic power, mining and national defense.
| | | |
| --- | --- | --- |
| Name | Unit | Excavator Attachment Shotcrete Robot Head |
| Theoretical Shotcrete Capability | m³/h | 30 |
| Axial Rotation Angle | | 360 |
| Brushing Speed | rpm | 70 |
| Spraying Gun Structure Form | | Separated |
| Spraying Gun Output Diameter | mm | 50 |
| Spraying Gun Inlet Diameter | mm | 80 |
| Max Allowed Aggregated Diameter | mm | 15 |
| Hydraulic Oil Pressure | Mpa | 10 |
| Hydraulic Oil Flow | ml/min | 5 |
| Total Weight | kg | 120 |
| Attached Excavator Model | | Customized According to Client Exact requirement. |