Double-jet hydraulic wet concrete spraying machine adopts double-nozzle spraying operation, high construction efficiency
Share
From

Saintyol DAWIN News Center
publisher

Jenny
Issue Time

Apr 6,2021
Summary
The double-jet hydraulic wet-jetting machine is a pumping concrete wet-jetting machine. It adopts double-nozzle spraying operation. The production capacity is 12-16 cubic meters per hour. It has the characteristics of high pumping pressure, long conveying distance, low resilience, and high construction efficiency. . Double spray hydraulic wet concrete spraying machine is widely used for wet spraying concrete machine construction operations in mines, tunnels, culverts, subways, hydropower projec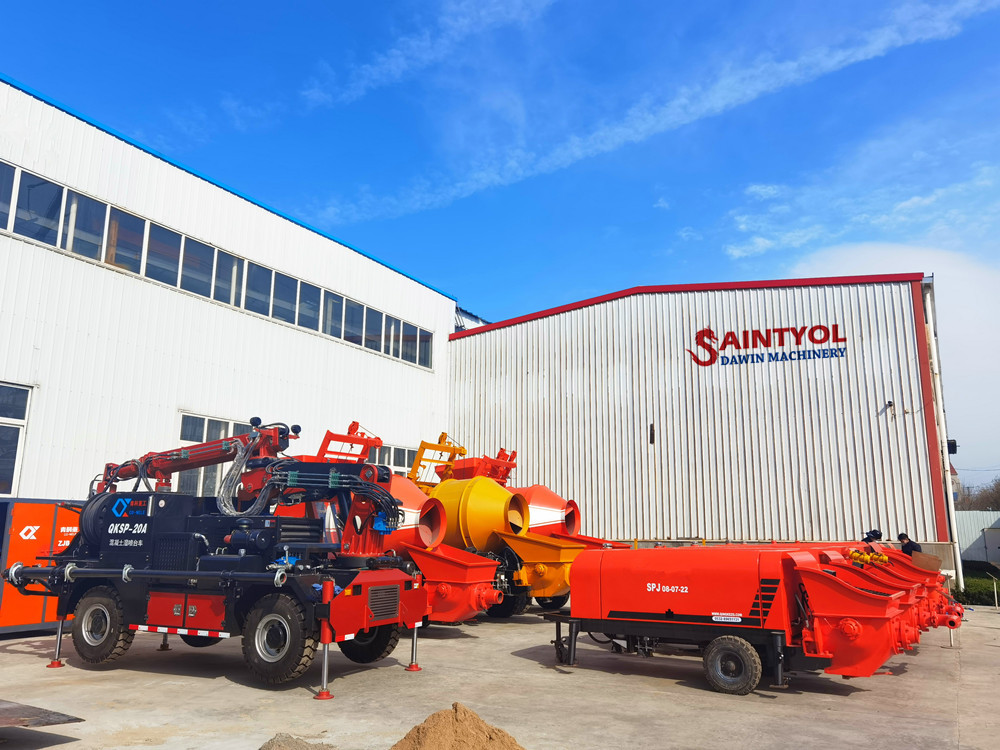 The double-jet hydraulic wet-jetting machine is a pumping concrete wet-jetting machine. It adopts double-nozzle spraying operation. The production capacity is 12-16 cubic meters per hour. It has the characteristics of high pumping pressure, long conveying distance, low resilience, and high construction efficiency. . Double spray hydraulic wet concrete spraying machine is widely used for wet spraying concrete machines construction operations in mines, tunnels, culverts, subways, hydropower projects, underground projects and slope protection.
The pumping system of the double-jet hydraulic wet-jet machine has low energy consumption, high working efficiency, few wearing parts, high system reliability, and stable delivery. The spray system adopts single nozzle or double nozzle spraying operation, which improves work efficiency. The double-jet hydraulic wet spray machine is equipped with an automatic lubrication system. The main sealing parts are automatically lubricated, and the grease filling amount and filling time are automatically controlled, which greatly extends the life of the wearing parts.
Compared with dry shotcreting machine, double-jet hydraulic wet shotcreting machine has low dust concentration, low rebound rate and accurate control of water-cement ratio, which can fully hydrate the cement and high strength of shotcrete. Compared with the dry spraying machine, the double-jet hydraulic wet spraying machine can greatly save the cost, will not generate dust, and thus has little impact on the workers and the environment, and is suitable for various working environments.