Concrete Placing Booms Concrete Distributors Concrete Spreader Models
Share
From

Saintyol DAWIN Machinery Original
publisher

Jenny
Issue Time

Mar 24,2020
Summary
Concrete Placing Booms Concrete Distributors Concrete Spreader Models including manual model, trailer mobile spider concrete placing boom, tower self climbing or say hydraulic self-jack up models, details please check the report from Saintyol DAWIN Machinery.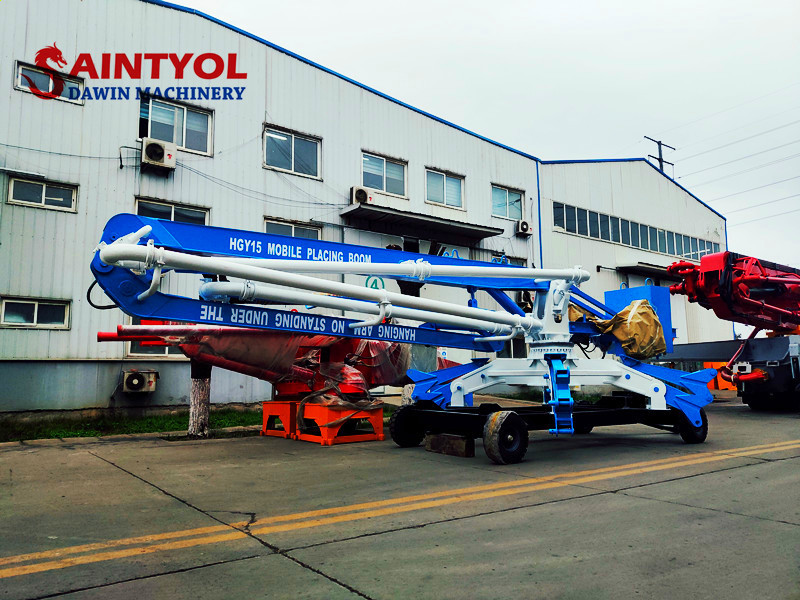 Concrete Placing Boom Concrete Distributors Including:
Manual concrete distributors: Concrete distributors are new products developed to expand the scope of concrete pouring and improve the mechanization level of pumping construction. It is a complete set of equipment for concrete conveying pumps. It is connected with concrete conveying pumps and expands the concrete pumping range. Effectively solved the problem of pouring fabric on the wall, which played an important role in improving construction efficiency and reducing labor intensity. This kind of cloth distributing machine has reasonable design, stable and stable structure, and adopts 360 ° full-slewing boom type cloth structure. The whole machine is easy to operate, flexible to rotate, and has the characteristics of high efficiency, energy saving, economy and practicality.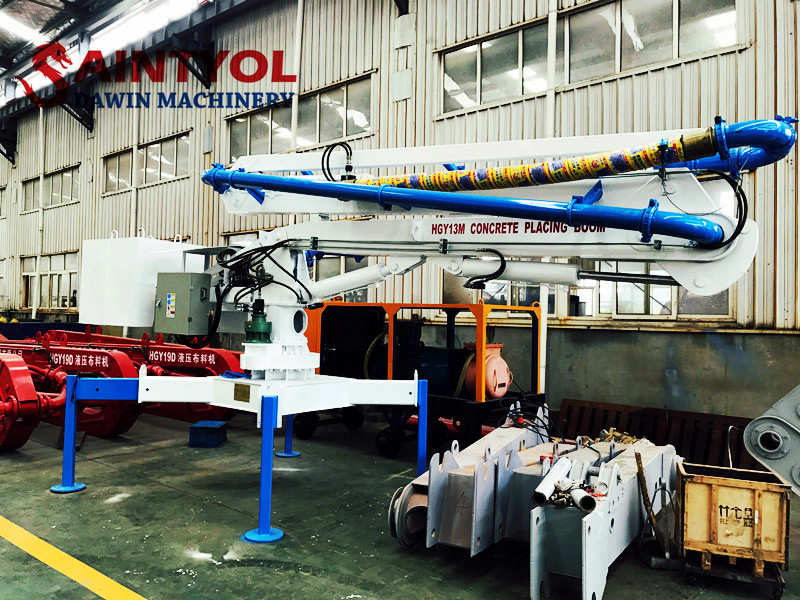 The Second model is Saintyol DAWIN Machinery spider mobile hydraulic concrete placing booms mainly includes 13m, 15m, 17m 19m 21m 23m driven by a fully hydraulic system. Mobile hydraulic concrete placing booms driven by fully hydraulic system. It does not need to be fixed while working and could be moved to another place by tower crane on site, highly movable and flexible. It is very suitable and widely used for the construction of form walls, pipes, columns, piles, other vertical structures, different floors without confined placing areas and complicated jobsites without being influenced by the size and shape of floors.
Concrete placing boom is an auxiliary equipment of concrete pump. It is connected by standard conveying pipe.
Like a robot can quickly and accurately deliver to any pouring part of the working surface to continuous pouring.
Sloved the problem of fabric conveying concrete,
greatly reduces the labor intensity and improves the progress and quality of the construction.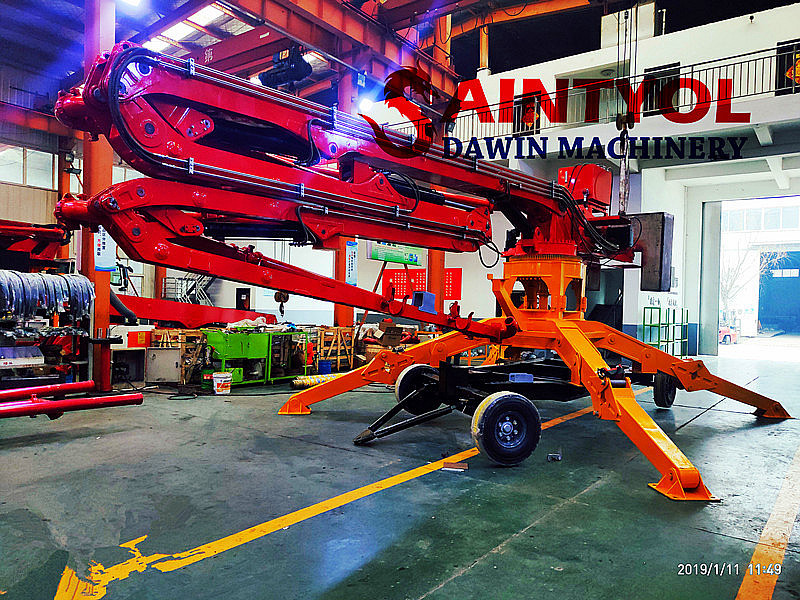 The Third type: internal climbing concrete distribution machine Internal tower self jack up concrete placing boom machine is the distribution equipment for concrete construction of high-rise buildings. The spreader is fixed in the elevator shaft and is equipped with an automatic climbing mechanism. It uses hydraulic cylinders to lift and automatically climb in the elevator shaft to make the spreader rise with the rise of the floor, saving time and labor and high efficiency. Saintyol DAWIN Machinery concrete spreader concrete placing boom It is a special shipboard Concrete placing Equipment designed for harbors, docks and other construction projects. Dedicated concrete pouring and distributing equipment specially designed for railway beam manufacturing field, nuclear power and other engineering constructions; mobile Z-shaped three-section folding arm of concrete spreader with 360 ° rotation, which can be pitched and extended, within the length of the boom Achieve full-scale pouring of three-dimensional space without casting dead angles, and can easily realize concrete pouring of various construction operations such as walls, pipes, columns, and piles.